Click here to see the rest of the 2011 Fall color Gallery.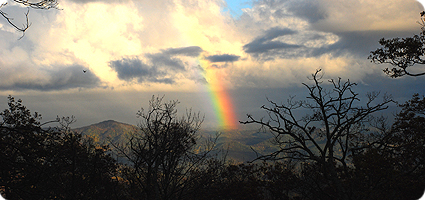 Oct. 21 – It is a cold, clear, slightly breezy day on Grandfather Mountain. There are not a lot of leaves left on the trees above 3,500 feet, and the leaves that do remain are on the rusty, brown end of the spectrum. Today's photograph by Helen Moss Davis was taken from the Blue Ridge Parkway and shows that the pot of gold (leaves) can be found driving through the foothills on your way to Grandfather Mountain.
Tips for visiting Grandfather Mountain during peak fall color season.
The best route for color continues to be the Blue Ridge Parkway from Asheville to Virginia – but the trees with the most color will be below 3,500 feet.
Other colorful routes are:
NC 105 from Foscoe to Boone
NC 181 from Morganton to Jonas Ridge
US 19E from Spruce Pine to Hampton, TN
US 321 from Lenoir to Watauga Lake
US 221 from Marion to Linville Falls
US 421 from North Wilkesboro to Trade, TN