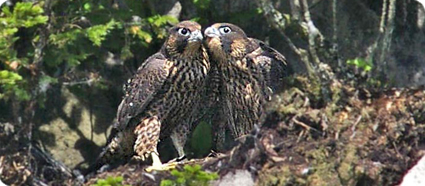 Grandfather Mountain and The Nature Conservancy
Grandfather Mountain's Partnership with The Nature Conservancy began in 1990. Landowners donated a series of conservation easements to The Conservancy. The easements permanently protect 1,460 acres of Grandfather Mountain ridgeline known as "the backcountry." Combined with adjoining tracts, the approximately 4,000-acre Grandfather Mountain watershed is the largest single holding in the North Carolina system.
The agreement allowed the travel attraction to use the land for purposes compatible with natural area preservation (such as hiking trails), while prohibiting development and other potentially destructive uses. A management agreement allows The Nature Conservancy to assist in managing the biological resources of the tract.
In 2009, Grandfather Mountain, Inc. sold 2,700 acres of the backcounty to the state of North Carolina for the Grandfather Mountain State Park. All Nature Conservancy conservation easements transferred with the property. North Carolina State Parks, The Nature Conservancy and the Grandfather Mountain Stewardship Foundation all work together to manage and protect this valuable ecosystem.
The Nature Conservancy considers Grandfather Mountain an ecological site of global significance, as it provides habitat for more globally rare species than any mountain east of the Rockies. The species include the globally imperiled Spruce Fir Moss Spider, Blue Ridge Goldenrod and Spreading Avens.
About The Nature Conservancy
The mission of The Nature Conservancy is to find, protect, and maintain the Earth's rare species and natural communities by preserving the lands and water they need to survive. The organization identifies and inventories unique natural areas and habitats and establishes protection priorities based on information gathered by the North Carolina Natural Heritage Program and by a group of volunteer consultants.
The Conservancy retains ownership and manages 54 preserves totaling over 59,000 acres of critical natural habitat in North Carolina and is considered the best privately owned statewide system of nature sanctuaries in the nation.