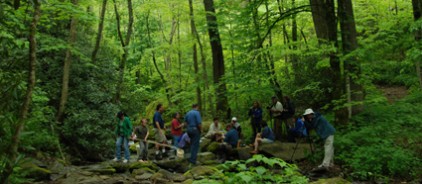 Man & Biosphere Reserve Program
Grandfather Mountain was recognized as an International Biosphere Reserve in November of 1992. In May of 2009 there were 553 biosphere reserves in 107 countries.
Grandfather Mountain is a microcosm of its larger region.
16 distinct ecological communities in less than 5,000 acres
History of scientific study

In 2010 there were fifteen scientific studies being performing at Grandfather.

Projects ranged from census studies of crayfish and snails to collecting red spruce seeds for storage in international seed banks.

Habitat for 73 rare or endangered species

Thirty-two (32) are critically imperiled globally because of extreme rarity.

Education and training

Offers interpretive programs for the general public and excels in offering environmental education for school children.
Grandfather also hosts educational programs and public forums on current environmental topics.
What is a Biosphere Reserve?
The purpose of the Man and Biosphere program is to foster harmonious relationships between human beings and their environment.
The mission of the Man and Biosphere program is to identify and share information on ways that man can enjoy economic prosperity without destroying the environment.
What a Biosphere Reserve IS NOT.
A Biosphere Reserve is not land controlled by the United Nations. Grandfather Mountain, Inc. makes its own decisions regarding the operation of its business and management of its resources without any input from the United Nations.
Criteria for selection as a Biosphere Reserve
each unit be a unique resource representative of a larger region
with a legally protected core area that is shielded from unbridled development
have a history of scientific study and be active in ecological research and monitoring
be active in the education and training of resource management professionals
be dedicated to consciousness raising among the general public.
be a gathering place for regional dialogue about current environmental and economic growth issues.