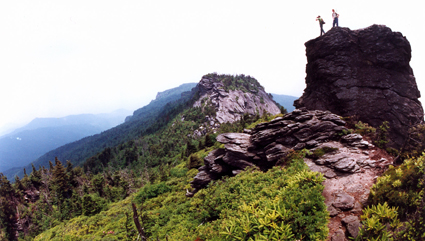 Grandfather Mountain State Park
In 2009, Grandfather Mountain, Inc. sold 2,700 acres of the backcounty to the state of North Carolina for the Grandfather Mountain State Park. The North Carolina Division of Parks and Recreation and the Grandfather Mountain Stewardship Foundation work together to manage and protect this natural treasure for the good of the people of North Carolina.
There is no charge to access Grandfather Mountain State Park from trailheads at the base of the Mountain, but registration is required for safety reasons. Self-registration permit boxes are available at the Profile Trailhead and along the Tanawha Trail before accessing the Nuwati and Daniel Boone Scout Trails from the Boone Fork Parking lot on the Blue Ridge Parkway.
Access Grandfather's backcountry trails from the Swinging Bridge area is included in the price of admission for patrons of the Grandfather Mountain travel attraction. Hikers wishing to access Grandfather Mountain State Park from the Swinging Bridge will be required to purchase a ticket to the attraction before they can drive to the summit.