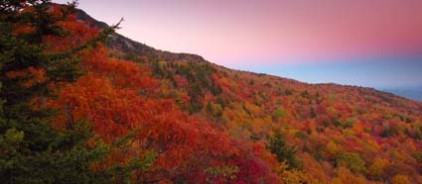 How do you protect an entire mountain? With a mountain of effort, of course.
Throughout Grandfather Mountain's history, thousands of people have made a big difference in its preservation and conservation—protecting it as a wonderful place for animals like Mildred the Bear, as well as plants and people. Our ongoing efforts include everything from generating energy using solar panels to supporting bird-friendly coffee to recycling everything we possibly can.
But we need your help, too. Everyone who visits Grandfather Mountain or supports it through donations or souvenir sales becomes part of the team honoring Mildred, and all the other living treasures on the mountain, by protecting her home. Every dollar received through ticket sales, souvenirs and donations contributes to keeping Grandfather Mountain pristine and beautiful for generations to come.
Join with us in keeping Grandfather a place that Mildred—and everyone else who's made a difference for Grandfather Mountain—would be proud of for upholding a legacy of protection and preservation.
Will you consider a contribution to help keep Grandfather Mountain the important—and incredible—place it is today? We encourage you to support Grandfather through visits, donations, souvenirs and learning more so you can spread the word.
Who was Mildred? 
Mildred was a much-loved black bear that lived on Grandfather Mountain for 25 years, appearing to visitors and living in Grandfather's first natural wildlife habitat with her cubs. She inspired all of us to continually seek to be better stewards of our precious animals and environment.