Tips For Visiting During Fall Color Season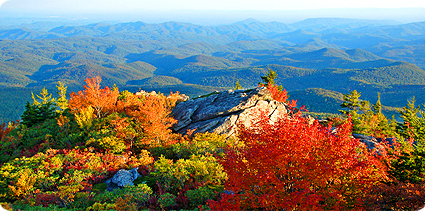 1. Travel on weekdays in mid-October if you can.

Visit the High Country on weekdays during October if you can. Attractions, restaurants and hotels will be busy on peak October weekends, so visiting during the week is more relaxed.
2. Arrive at Grandfather Mountain before 10 a.m. or after 3 p.m. on peak weekends.
Most of our guests arrive between 11 a.m. and 3 p.m.
The payoffs for visiting early are many. Cool mornings clear the air, making the view across the surrounding mountains its most spectacular. In fact, in October, early-morning visitors are sometimes able to see the skyline of Charlotte, NC, 80 miles away.
The animals are energized by the brisk mornings, too, and are alert and playful in the early hours.
3.  We ask for your patience if you find yourself in a line of traffic before you arrive at the Grandfather Mountain ticket gate.
U.S. 221, on which the Grandfather Mountain ticket gate is located, is a two-lane highway. There is no option that will allow drivers to "go around" Grandfather Mountain, so folks often find themselves in a line of traffic waiting to get to one of the two ticket booths.  We ask for your patience, and we promise that we are trying to move cars through as quickly as possible.
On a sunny, fall color weekend, if you desire to drive past Grandfather Mountain without stopping for a visit, we encourage you to choose a route other than U.S. 221 to get from Linville to the Blue Ridge Parkway (or vice versa).
4. On weekend mornings, go to the Swinging Bridge first.
If there are traffic delays inside the attraction, they will be toward the top of the mountain where there are fewer places to park.  These usually do not develop before 11 a.m.
If you are ready for a fun excursion, park at the Trails Parking area just below the summit and take the Bridge Trail to the top. This 15-minute walk leads visitors to a viewpoint at which the bridge seems to float high above, making the experience of crossing the span minutes later all that more of an adventure.
5. If you are spending the weekend in the High Country, we recommend that you have lodging reservations.
For assistance, contact our area travel information service, North Carolina High Country Host, at 800-438-7500 or www.highcountryhost.com. Direct links to the lodging members of area Chambers of Commerce are also available on our Web site.
6. If you arrive at mid-day on a peak color weekend, we always want you to feel welcome.
Our staff will be out in full force to assist you. Our mission is to help you have a good time. It is important to us that you get to see and do everything while you are here, but your patience and cooperation will help us help you.