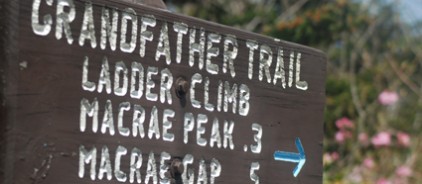 Safety on Grandfather Mountain
While Grandfather Mountain has safely welcomed thousands of visitors for decades, we must remember it is a rugged mountain and deserves respect and caution.
It also can host the region's most severe weather, including electrical storms, winds over 100 mph, deep snow and subzero cold. Approach this mountain with respect. Potential dangers include falls, lightning, heart attacks and exposure. The best rule is: When bad weather strikes, leave the area as quickly and safely as possible.
Please use good judgment in taking the following safety tips into account:
— Equipment – Trails here are often steep, rocky, uneven and slippery. Hikers should wear sturdy boots and carry a day pack with food, water, first aid supplies, rain gear, flashlight, cell phone and trail map. Please do not attempt these trails wearing sandals, street shoes or smooth soles.
— Lightning – Peaks, ridges, ledges and shallow overhangs are all high-risk areas for lightning strikes. Stay alert for changing weather patterns (thunderstorms can arrive suddenly in the afternoon) and stay clear of risk areas in an electrical storm.
— Hypothermia – A cold summer rain can be as dangerous as an arctic wind storm. Carry appropriate weatherproof garments, even in summer months.
— Trail Conditions – In wet or wintry weather, backcountry trails can be slick, muddy and treacherous. Upper trails in winter often glaze over with ice. Hiking under these conditions falls in the domain of well-equipped experts.
— Watching Children – Adults should keep a close eye on children while hiking or exploring the park, especially on rocky ledges and trails.
— Health Considerations – Visitors with breathing or heart conditions should be cautious of strenuous activity, especially at Grandfather Mountain's higher altitudes.
IN CASE OF EMERGENCY, DIAL 911.