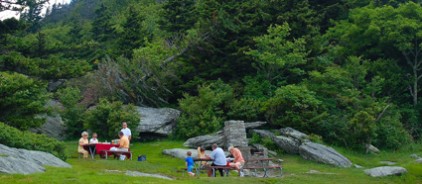 No overnight parking permitted
Ticket sales end one hour before the park closes.
All vehicles must be off the Mountain at closing time. When any vehicle remains inside the park at closing time, we are required to launch a search.
If, in an emergency, you leave your car on the mountain, please call 828-733-2800 (Top Shop), 828-733-4337 (Gate) or 828-733-1059 (Nature Museum) as soon as possible to notify Grandfather Mountain staff. If you do not call, we will send out a search party.
No alcohol allowed
Grandfather Mountain is a family attraction. The use of alcohol by one group can impose on the enjoyment of other guests. The use of alcohol also makes it more dangerous to walk out on Grandfather's rocky cliffs or to drive on the Mountain's curvy roads. We thank you for leaving the alcohol at home.
Large vehicles restricted
Because of sharp, hairpin curves near the top of the mountain, jointed vehicles and motor homes more than 28 feet in length are not permitted on the upper half of the two-mile summit road (past the Nature Museum).
No walking or biking on the summit road
Due to the steep grades and curves in the roadways, walking on the roadways is not permitted. Bicycling is not permitted on the roadways or on the trails.
Pet policy
Pets on a leash are welcome at Grandfather Mountain, except in the buildings where food is sold (Nature Museum, Fudge Shop, Top Shop) or in the Animal Habitat area.