Catawba rhododendron
(Rhododendron catawbiense)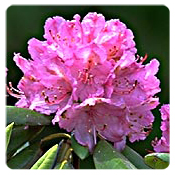 Handsome, often cultivated, shrub with rose-lavender flowers. Frequent in large stands on the higher rocky slopes, ridges, and balds of the Appalachian Mountains in late May and June.
The Catawba Rhododendron is abundant all across Grandfather Mountain, from MacRae Meadows at 4,300 feet in elevation to MacRae Peak at 5,939 feet in elevation.
Because the flamboyant shrub abounds across this broad range of elevations, it can be enjoyed at each successive elevation. The first blooms appear at the lower overlooks in late May and the display will arrive at the Swinging Bridge by the end of June.