Punctatum
(Rhododendron carolinianum)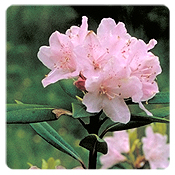 Slow growing broadleaf evergreen shrub, upright and spreading with a rounded shape. Medium-sized leaves are thick, leathery with elliptical shape, 2″ to 3″ long. Glossy, dark green leaves have brown-dotted undersides with small scales. Petioles are often reddish-brown, stems are red, purple, and green.
Blooms in May before most large-leaved rhododendrons. Individual flowers are 1.5″ across and are borne in clusters of 5 to 10 flowers, 3″ diameter. Color varies from pale pink to dark pink.
Native to the the mountains of North Carolina, South Carolina and Tennessee.