Flame Azalea
(Rhododendron calendulaceum)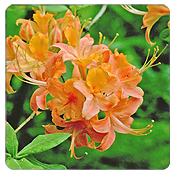 The most widely cultivated of the native azaleas, these shrubs grow in deciduous forests and on forest margins in the mountain region in May and June. The flowers are one inch or more across in varying shades of orange and yellow.
The flame azalea gets its name not only from its color, but from the fact that its unopened buds resemble the flame on a candle.