Serviceberry
(Amelanchier arborea)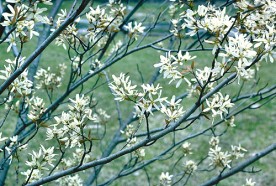 Small deciduous tree that grows in open rocky woodlands in eastern US. White or light pink blooms appear in April.
The first bloom of spring in the higher elevations, these branches were popular for decorating churches at Easter where it earned the name "service" tree (pronounced sar-vis by mountain folk).
The small red fruits that develop in late June are sometimes called Juneberries.