Oswego Tea or Bee Balm
(Monarda didyma)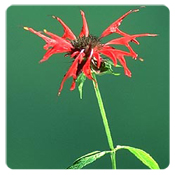 A compact, crown-like whorl of showy flowers is 3-4 inches in diameter and has bright red leaf-like bracts just below it. The 3-6 foot tall perennial is native to the northeast and can be found along the banks of mountain streams.
Monarda is widely planted as an ornamental and the leaves have a strong mint fragrance when crushed. July-September.