Lily of the Valley
(Convallaria montana)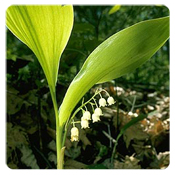 Small white, bell-shaped fragrant flowers on 1-foot stems with 2 or 3 dark green leaves, 2-4 inches wide.
These low perennial is found in rich woods in the Appalachian mountains. Different from the cultivated garden flowers, this variety is presumed to be native to the area. April-June.