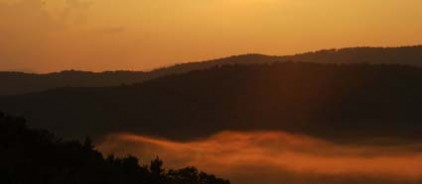 Grandfather Mountain is a member of the Southern Highlands Attractions
SHA is an organization of family attractions that promotes high standards of quality and service for its members.
The Blue Ridge Parkway
"America's favorite drive" is open year round, weather permitting in winter.
Grandfather Mountain is located a mile off the Blue Ridge Parkway at Milepost 305. The entrance gate is located one mile south of the exit on U.S. 221 in Linville.
Linking Shenandoah National Park to Great Smoky Mountains National Park, the Blue Ridge Parkway is a 470-mile, linear National Park with many stopping points along the way. Special Parkway features near Grandfather Mountain include: Linn Cove Viaduct, Cone Manor House & Craft Center, Julian Price Park, Price Lake & Campground, Linville Falls and Linville Gorge.
Driving on the Parkway is free of charge. Fees are charged for the use of facilities, such as boat rentals or campsites. Visit virtualblueridge.com to learn more about the Blue Ridge Parkway and to view virtual tours of the Parkway.
Reach the Administration Office in Asheville at (828) 271-4779 or click to learn more about The Blue Ridge Parkway.
Linn Cove Viaduct
The Linn Cove Viaduct is an award-winning elevated roadway that carries the Blue Ridge Parkway across an environmentally fragile section of Grandfather Mountain and is the most visited section of the 470-mile Parkway.
The Linn Cove Visitor Center is open from May through October and offers trails that wind under and around the elegant suspended road.
Linville Falls
Open year round, Linville Falls is a 90-foot waterfall that plunges into the Linville Gorge Wilderness Area. A half-mile walk takes visitors to the top of the falls. Allow approximately two hours; no admission charged. Seasonal campground available.
Linville Falls Visitor Center is located off the Blue Ridge Parkway at Milepost 317.8.
Reach the ranger station at 828-765-7818.
Fresco Art by Ben Long, Sloop Chapel at the Crossnore School
Open daily from 8 a.m. to 8 p.m.,
except on Thursdays from 2 p.m. to 3 p.m., Sloop Chapel is on the grounds of the Crossnore School in Avery County, up the hill from the Weaving Room. Allow 30-45 minutes. No admission charged. For more information, call 828-733-4305.
"Suffer, the Little Children" is a wall-sized fresco by internationally acclaimed fresco artist Ben Long that tells the story of how Jesus received the children as the crowds surrounded him. Part of the Benjamin F. Long IV Fresco Trail. Learn more about the Fresco Art by Ben Long, Sloop Chapel at the Crossnore School.
Old Hampton Store & Grist Mill
Hampton Store was built in 1921, and the grist mill was added in 1934. The country store in Linville carries housewares and unique decorating accents plus delicious jams, jellies, cheeses, country ham, honey and its very special stone-ground flours and meal. Inside the store, you'll also find Uncle Lee's Barbeque serving lean, hickory-smoked barbeque on homemade sourdough rolls made fresh daily! The mill is periodically open for demonstrations throughout the summer season.
Old Hampton Store is open April to November at 77 Ruffin Street, Linville, NC. No admission is charged. Call 828-733-5213 or click to learn more about the Old Hampton Store & Grist Mill.
Tweetsie Railroad
Visit this wild west theme park in Blowing Rock centered on the original narrow gauge steam locomotive that opened the High Country up for civilization more than 100 years ago. The three-mile train ride includes an outlaw holdup, Indian fights and spectacular mountain scenery. Also includes show in the Palace saloon, amusement rides, petting zoo, crafts demonstrations, gift shops and more. In October, the mysterious Ghost Train appears at dusk and is a favorite with ghouls of all ages.
Admission is charged. Open April through October. Allow at least half a day to visit. Call 800-526-5740 or 828-264-9061 or learn more about Tweetsie Railroad.
Linville Caverns
North Carolina's only underground caverns, located on U.S. 221 between Marion and Linville Falls. Carved by streams running under Linville Mountain, the cavern has a storied history as a hideout for robbers and Civil War deserters from both sides. See stalactites and stalagmites. Blind fish inhabit the underground stream.
Open daily April through November, reduced hours in winter months. Admission charged.
Call 800-419-0540 or 828-756-4171 or learn more about Linville Caverns.
Mast General Store
Established in 1883, the original Mast General Store is listed on the National Register Of Historic Places. In the old days, they carried everything the community needed, from cradles to caskets, and is still the place the people of Valle Crucis stop every day to pick up their mail. The main store carries an eclectic array of items for the mountain home and has one of the best shoe stores in the High Country. The Mast Store Annex has wonderful selection of casual clothing and The Candy Barrel, an adventure for the eyes with hundreds and hundreds of colorful candies sold by the pound. Many retro candies to bring out the child in everyone. Additional location in downtown Boone.
Open year round. Call 828-963-6511 or click to learn more about Mast General Store.
"Horn In The West" Outdoor Drama
One of the nation's longest-running outdoor dramas, Horn in the West is a dramatic play set in 1771, a time of British dominance and colonial unrest. Relive the building of a mountain culture as early settlers, led by Daniel Boone, struggle for independence from the crown. A Cherokee fire dance is a favorite feature of the show. Unforgettable lesson in history and the performing arts.
Performed each summer in Boone. Admission charged. Call 828-264-2120 or learn more about Horn In The West Outdoor Drama.
An Appalachian Summer Festival
Celebrating 30 years in 2014, An Appalachian Summer Festival features the finest in music, dance, theater and visual arts during the month of July. Named one of the Top 20 Events in the Southeast by the Southeast Tourism Society.
Sponsored by Appalachian State University; admission charged. Call 828-262-6084 or 800-841-ARTS or learn more about An Appalachian Summer Festival.