GRANDFATHER OFFERS EXTENDED FALL WEEKEND HOURS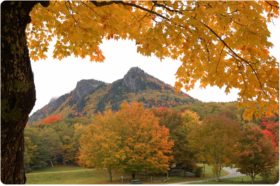 As autumn bursts into brilliant color on Grandfather Mountain, extended weekend hours will help ensure that guests don't miss a minute of it.
For two weekends in October — Oct. 17-18 and Oct. 24-25  — Grandfather Mountain will feature extended hours. The special hours are as follows:
⋅ Oct. 17-18, 8 a.m. to 7 p.m.
⋅ Oct. 24-25, 8 a.m. to 6 p.m.
As an added bonus, those who arrive between 8 and 9:30 a.m. will receive an early-bird discount of $2 off, stackable with one additional discount. (MORE)
---
A BIG MONTH FOR HAWK WATCH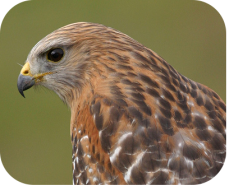 September was a big month for Grandfather Mountain — and the 10,000-plus hawks that soared above it.
Each September, Grandfather Mountain participates in the official Hawk Watch, during which trained counters record the number and type of raptors passing above the Mountain, including bald eagles, golden eagles, peregrine falcons, broad-wing hawks, red-tailed hawks, American kestrels, merlins and vultures.
Every fall, thousands of raptors migrate from Canada and the eastern seaboard along the Appalachian Mountains to Central and South America. The birds use thermal air columns to gain lift and glide above the peaks toward their warmer destinations.  (MORE)
---
AJAX THE EAGLE LANDS AT GRANDFATHER MOUNTAIN
Something eyrie is happening at Grandfather Mountain.
In late August, the mountain welcomed a juvenile bald eagle to its animal habitats.
Named Ajax, the nearly 2-year-old bird of prey spent a month acclimating to his new surroundings and is now on full display in the mountain's eagle habitat.
Like his "roommate," Griffin, Ajax had sustained injuries in the wild, preventing him from being released there after rehabilitation.
As a fledgling in Florida, Ajax fell out of his nest, suffering fractures on his left wing, left leg and right shoulder. He was brought to the Busch Gardens Animal Care Center in Tampa, where his wounds were treated and mended. (MORE)
---
SUNRISE/SUNSET OPPORTUNITIES RETURN
Grandfather Mountain will offer four sunrise/sunset viewing opportunities in October.
These sessions allow sightseers and photographers to marvel at the nearly 360-degree views available from Grandfather Mountain's peaks as the sun rises and sets.
Sunrise sessions will be offered on Oct. 23 and 30, and sunset sessions will be offered on Oct. 19 and 26.
Admission is $10 per person and $5 for Bridge Club members with proof of membership. Space is limited, so registration is required. For more information, click here.