GRANDFATHER MOUNTAIN JAUNTS SHOWCASE FALL COLOR
As fall approaches the Blue Ridge Mountains, Grandfather Mountain remains one of the best leaf-looking destinations in the South. One way guests can enjoy fall foliage this season is Grandfather's guided walk series, "The Colors of Grandfather," offered on October 4, 5, 11, 12, 18 and 19.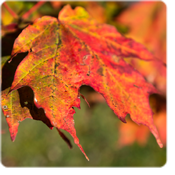 Grandfather Mountain is home to numerous species of plants and hardwood trees that range from pumpkin-colored beech trees to blood-red sourwoods and rusty red oaks.
"We're seeing a quite a few changes happening now, but we still expect the peak viewing opportunities to occur at Grandfather Mountain in the first to second week of October," said Jesse Pope, director of education and natural resources.
"The Colors of Grandfather" will visit various locations around Grandfather Mountain to showcase a spectacular contrast of stunning autumn hues. These guided walks, led by members of the Grandfather Mountain Stewardship Foundation's educational staff, give guests an opportunity to learn more about color change and explore the species of plants and trees native to Grandfather Mountain. Participants will become more familiar with tree identification and will be able to ask questions about the annual color-changing phenomenon.
The programs begin at 1 p.m. and are included with regular admission. For more information about "The Colors of Grandfather," call 800-468-7325 or visit www.grandfathermtn-staging.v38mw8dg-liquidwebsites.com.
---
BEARY SCARY HALLOWEEN RETURNS OCT. 25
Celebrate Halloween in a "beary scary" way on Grandfather Mountain on Saturday, Oct. 25!
Kids in costume enter the park for half-price for a full day of Halloween-themed activities and games.
Learn about creepy-crawly critters and go batty for bats during nature programs with park staff, or take part in arts and crafts and interactive games throughout the day. Park guests can trick-or-treat in the animal habitats and participate in a costume contest inside the Nature Museum.
Kids also have an opportunity to decorate pumpkins and other treats that will be presented to the habitat animals during enrichment sessions that afternoon. During an animal enrichment, habitat staff offers the Mountain's animals a special toy, treat or scent to break up their day and keep them active and stimulated.
Halloween activities take place throughout the park from 10:30 a.m. to 3 p.m., and no registration is required.
---
SEPTEMBER HAWK COUNT TALLIES 4,500+ BIRDS
Despite fog and clouds on many days in September, birders at Grandfather Mountain spotted more than 4,500 migrating hawks in 130+ hours of observations last month.
Staff and volunteers, along with park guests, were able to spot a variety of species, including broad-winged hawks, sharp-shinned hawks, ospreys, bald eagles and more during the month-long count, conducted through the Hawk Migration Association of North America.
A banner day on Sept. 20 yielded tallies of 2,279 broad-winged hawks, flying in large groups called kettles, and several other varieties of raptors.
Counters spotted about 50% more birds this September than last September despite monitoring 20% fewer hours.
While the hawks may be visible on migration paths for several more weeks, the official count ended Tuesday.
Learn more at hawkcount.org.
---
NEW POSSUM JOINS GRANDFATHER MOUNTAIN
Grandfather Mountain has added a new possum named Archie to its menagerie.
Archie, short for Archibald, was originally taken into the care of humans at the Blue Ridge Wildlife Institute at Lees-McRae College after his family was attacked by a dog. Archie bears a scar on his tail from the traumatic episode.
While the Institute was able to rehabilitate and release Archie's siblings, he was diagnosed with an underdeveloped eye that limited his vision. Rehabilitators determined he likely would not survive long in the wild, so he was given to Grandfather Mountain to serve as an educational animal.
"He has such a great personality," said Habitat keeper Alexis Rowe (pictured). "He's super friendly, he doesn't mind being petted, and he doesn't bite."
Archie is now about six months old and participates regularly in educational programs that inform the public about the under-appreciated marsupial. Habitat staff members say he's an adventurer who, unlike most of his species, doesn't mind roaming during the daylight hours.
The Mountain's former opossum resident, Fern, died in March after suffering a tumor in her abdomen.