FALL COLOR UPDATE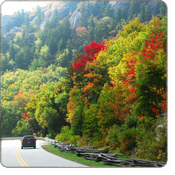 Crisp autumn weather has brought the first splashes of fall color to Grandfather Mountain and with sunny days in the forecast for the next week the color will only grow more abundant throughout the month of October. Despite the recent government shutdown the Grandfather Mountain Travel Attraction, Grandfather Mountain State Park, and the Blue Ridge Parkway will all remain open for visitors looking for places to enjoy the spectacular contrast of autumn hues.
For those planning to visit Grandfather Mountain via the Blue Ridge Parkway please note that the parkway will remain open for driving, hiking and nature exploration.  Federal Park Services along the parkway including welcome centers, bathrooms, museums and other education centers along the parkway will be closed. While planning your visit be sure to map out alternative rest stops and accommodations for your trip.
For more information on developing fall foliage and helpful travel tips be sure to check out our fresh fall color photos posted daily throughout the month on the Mountain's website, Facebook page and Twitter account. These postings include up-to-date reports on leaf looking conditions, helpful tips for visiting the area in fall and the best routes for finding the brightest trees. You can view our fall color gallery here.
---
INTRODUCING NOVA THE OTTER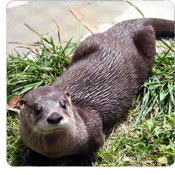 We are very excited to announce the arrival of Nova the otter to Grandfather Mountain. Nova came to us in September from a wildlife rehabilitator after being orphaned at a very young age and she is our newest addition to our resident animals.
Habitat Staff will be keeping Nova at a facility known as "the plaza," an off-display habitat at Grandfather Mountain where she will have her own pond and lay of the land. Staff members plan on introducing Nova to Nottaway and Luna in early 2014 when Nova has gotten a little bit bigger in size.
Although she will not yet be on display in our Otter Habitat, guests who participate in the Behind The Scenes Habitat Tour will have the opportunity to venture to the plaza to meet this playful little pup! During the month of October Behind the Scenes Habitat Tours will be offered at a discounted rate of $20 per person. To make a Behind the Scenes reservation before your trip, please call 828-733-8715.  Any remaining tour spots can be purchased on the day of at the Nature Museum Gift Shop.
---
AN OLD FRIEND DONATES UPDATES TO THE HABITAT DISPLAY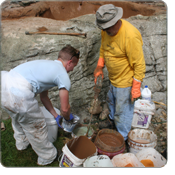 Dwight Holland paid tribute to great memories and honored a special friendship this September at Grandfather Mountain.  Holland's hands, spattered with concrete and color, have played a big role at the nature attraction over the years as he designed the layout of most of the animal habitats and created much of their artificial rock work.  He formed a friendship with Hugh Morton, the late owner of Grandfather Mountain, in 1978.
Holland returned last month to spruce up the otter habitat and patch some of the rock work in the bear habitat.  He donated his time and services to the Grandfather Mountain Stewardship Foundation.
"Mr. Morton was always very particular about the upkeep up the habitats," said Holland.  "I came up a few weeks ago and noticed some improvements that were needed.  I wanted to come back and fix them out of respect for Mr. Morton and my love for this Mountain."
Holland, with the help of a worker, cleaned all the rocks in the otter habitat and also patched some of the concrete that had started to erode.  They also painted the pools in the habitat.  Concrete color was applied and the artists made their work look as natural as possible with many shades of browns and greens.
Holland also has a longstanding relationship with the North Carolina Zoo in Asheboro.  In the late 1960s he served on a committee that examined the feasibility of a state zoo and fought to have the zoo at the current Randolph County location.  Over the years he has served as the curator of design, designed many of the animal habitats, built artificial rock and served as interim director in 1993.
---
DISCOUNTED BEHIND THE SCENES TOURS OFFERED IN OCTOBER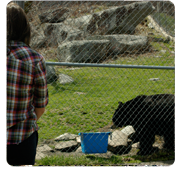 Behind the Scenes Habitat Tours at Grandfather Mountain are offered at a discounted rate during the month of October. These habitat tours usually cost $30 per person but will be offered for $20 per person for the entire month of October. Grandfather's extremely knowledgeable keepers will lead participants behind the scenes for an opportunity to see where animals eat and sleep, learn what it takes to care for the animals year-round, and learn why these animals call Grandfather Mountain home.
Additionally, participants will have the chance to meet Grandfather's newest resident animal, Nova the otter. Nova will not be added to the Otter Habitat until she has a little more age under her belt. Until that time Nova will be living in a private habitat area known as "The Plaza" which will be one of the many featured stops along the tour.
Behind the Scenes October tours are scheduled every day of the week at 1 p.m., excluding Oct 15 and 29. An additional tour is also offered on Saturdays at 10:30 a.m. The $20 cost per person does not include park admission. To make a Behind the Scenes reservation before your trip, please call 828-733-8715.  Any remaining tour spots can be purchased on the day of at the Nature Museum Gift Shop.
Each tour takes approximately one hour and 30 minutes. There is no age limit but small children must be carried if they are not capable of walking on their own. The use of strollers is prohibited during the tour. Participants must be able to walk up and down steep terrain, wear closed-toe hiking or work boots, dress in layers and be willing to sign a waiver of liability.
---
HAWK COUNT ON LINVILLE PEAK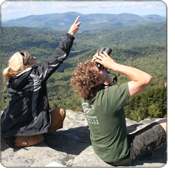 This September, Grandfather's educational staff members along with many volunteers diligently stationed themselves atop Linville Peak to count hawks during the peak migration season. Last year Grandfather Mountain joined the Hawk Migration Association of North America as an official Hawk Count site.
In September volunteers observed for a total of 164 hours and saw a total of 3,069 hawks. Of those 3,069; 2,797 of them were broad-winged hawks. This year we also had a record breaking number of 10 bald eagles fly over Grandfather Mountain in one day.
For more information about the Hawk Migration Association of North America, visit their website at www.hmana.org.  To review hawk count numbers from Grandfather and other accredited Hawk Count sites, visit www.hawkcount.org.