GRANDFATHER MOUNTAIN WINTER WEATHER CONTEST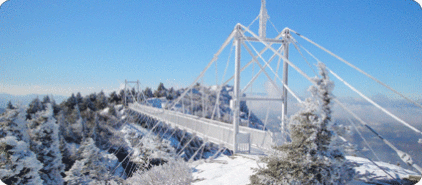 The Woolly Worm has made its prediction and all the weather experts are completing their forecasts for the coming winter, now it's your turn.  This year marks the 7th Annual Winter Weather Contest for E-Club members.  Enter to win by November 14. (more)
---
GRANDFATHER REVEALS CULTURAL HISTORY MUSEUM RENDERINGS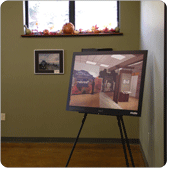 Debuting on the second floor of the two-year-old Top Shop at Grandfather Mountain this week are designers' renderings depicting the future Grandfather Mountain Cultural History Museum.  As a complement to the Nature Museum, this future exhibit will complete the story of Grandfather by telling the tale from a human perspective.
Planned exhibit highlights include: Native American visits to Grandfather, the creation of the attraction, special events, famous visitors and the future of the Mountain.  The capital campaign to finance this new project is just beginning. (more)
---
TWENTY TONS OF COLORFUL LABOR
The colorful autumn of the North Carolina mountains draws curious lookers from across the country.  The early turn, the diversity of tree species providing unparalleled color variety and the rolling terrain culminate to a truly magical visual showcase for visitors.  But what happens when all those beautiful leaves inevitably fall from their tall wooden perches?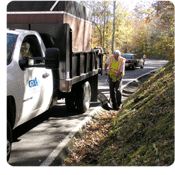 At Grandfather Mountain, the responsibility of leaf removal falls on the maintenance staff. Throughout the months of October and November, the primary task for the Grandfather Mountain Stewardship Foundation's maintenance staff switches almost entirely to policing the fallen foliage.  For a place that produces as much as 20 tons of fallen leaves, this is no small task. (more)
---
ADOPT AN ANIMAL PROGRAM DEBUTS NEW DONATION LEVEL AND ANIMALS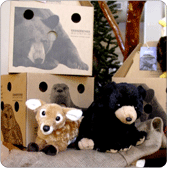 The Grandfather Mountain Stewardship Foundation is proud to welcome three new creatures to the Adopt an Animal campaign: Shakespeare the Barred Owl and two Screech Owls named Herbie and Zoey.  A new donation level is also available that makes a perfect gift for any animal lover.
The new $45 donation level includes a certificate of adoption, an 8×10 photograph and description of the animal, a plush animal and an e-newsletter subscription.  Adoptions of $45 and above are now packaged in a unique animal carrier box.  A total of $32 of the $45 Adopt and Animal level is tax deductible. (more)