Click here to see the rest of the 2011 Fall color Gallery.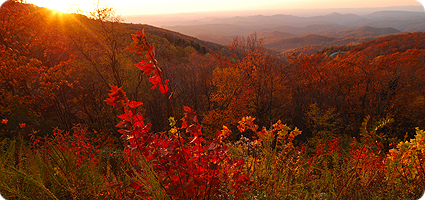 Oct. 17 – Another sunny day at Grandfather Mountain, less breezy than the past few days. Helen Moss Davis took today's photo early this morning from the Blue Ridge Parkway just south of the Viaduct.  The pictures she gets almost make the idea of getting up before dawn seem attractive!
Tips for visiting Grandfather Mountain during peak fall color season.
The best route for color right now is the Blue Ridge Parkway from Spruce Pine to Virginia.
Other colorful routes are:
NC 105 from Linville to Boone,
NC 184 from Tynecastle to Banner Elk,
Beech Mountain Parkway to the top of Beech Mountain,
NC 181 from Gingercake Acres to Newland,
NC 194 from Elk Park to Banner Elk (road construction between Banner Elk and Valle Crucis),
US 19E from Spruce Pine to Cranberry
US 321 from Boone to Watauga Lake
US 421 from Boone north to Trade, TN