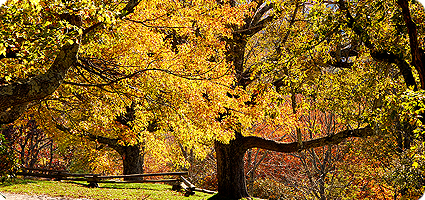 Oct. 9 –  Beautiful, beautiful, beautiful!  With a little nip in the air.   It is a great day for leaf-looking at Grandfather Mountain, along the Blue Ridge Parkway and in all parts of the High Country above 3,500-feet. The color is also beginning to pop out in Boone at 3,300 feet and in Foscoe at 3,000 feet.
Tips for visiting Grandfather Mountain during peak fall color season.
Today's photograph by Helen Moss Davis was taken at the Moses Cone Estate off the Blue Ridge Parkway near Blowing Rock.  There are 25 miles of walking trails and carriage paths on the Cone Estate where travelers can get out and enjoy the fall sunshine.
The best route for color right now is the Blue Ridge Parkway from the Grandfather Mountain exit at milepost 305 north to Blowing Rock.  That section will take you across the Parkway viaduct.
Other colorful routes are NC 105 from Linville to Boone, NC 184 from Tynecastle to Banner Elk and Beech Mountain Parkway to the top of Beech Mountain.
Rain is in the forecast for Tuesday and Wednesday, which could knock some of the leaves to the ground.  But its all good, because we all enjoy the sound of leaves crunching under our feet in the fall!  After the rain comes through, expect a new flush of color for next weekend's Valle Country Fair and Woolly Worm Festival.  Only about a quarter of the trees have turned so far, so there are plenty of leaves left out there to add color to the weeks ahead.