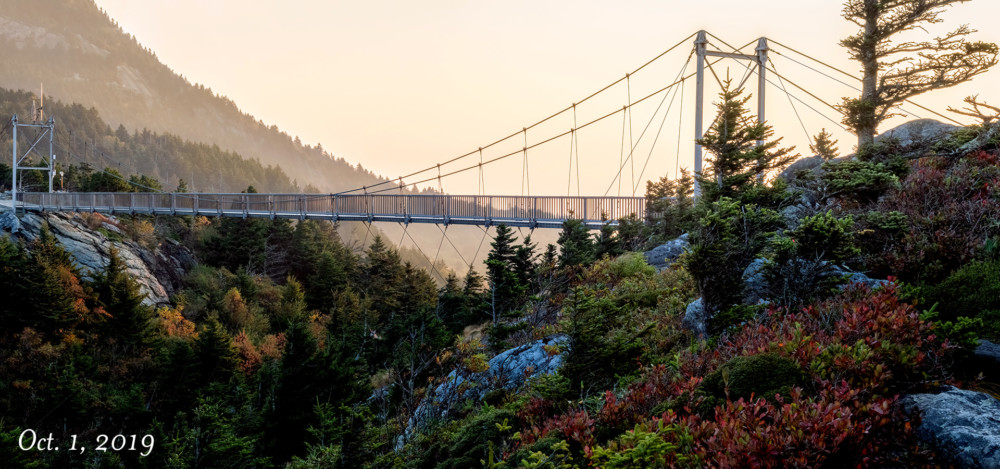 Fall color complements the sunrise at Grandfather Mountain's Mile High Swinging Bridge. So far, the color change is most evident in the High Country's higher elevations — in this case, a mile high — with bursts of red, orange and gold serving as contrast to the evergreens and fading shades of summer.
This entry kicks off Grandfather Mountain's 2019 Fall Color Gallery, featuring regular updates to showcase the phenomenon of fall color change in the Western North Carolina High Country. Grandfather Mountain is home to myriad species of plants and hardwood trees that range from pumpkin-colored beech trees to blood-red sourwoods and rusty red oaks.
For a surefire glimpse of the autumnal brilliance, leaf-lookers can partake in Grandfather's Fall Color Ramble, a series of guided walks through the mountain's most colorful locations. These easygoing rambles, led by members of the park's naturalist staff, give guests an opportunity to learn more about color change and explore the species of plants and trees native to Grandfather Mountain. The walks will be offered daily, Oct. 1 to 11, at 1 p.m. and are included with admission. Since the starting location will vary day to day, those planning to participate should inquire at the park's entrance gate upon arrival.
The Fall Color Ramble culminates with a celebration of fall color on Saturday, Oct. 12, featuring nature programs for all ages, including leaf-printing for children and guided hikes for guests of all ages and abilities.
Photo by Skip Sickler | Grandfather Mountain Stewardship Foundation