STUDENTS TO INSTALL BEE COLONY AT GRANDFATHER
An ambitious group of High Country students is setting up a honeybee colony at Grandfather Mountain in an effort to educate thousands about the pollinator's plight.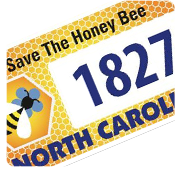 But a recent reduction in grant funding for the project means the group needs additional support to fuel the project's long-term success.
They're building buzz for the honeybee habitat with the creation of a specialty North Carolina license plate featuring a honeycomb background, bee image and the words "Save the Honeybee."
The group needs at least 500 commitments to purchase the tag before April 1 for the state legislature to consider the specialty plate. For each plate purchased, $10 would go toward the N.C. Division of Motor Vehicles, and the remaining $5 would be split between bee research efforts at N.C. State University and the Bee Aware project at Grandfather Mountain.
---
FIVE TEMPERATURE RECORDS BROKEN IN FEBRUARY
Winter finally arrived at Grandfather Mountain in February, bringing with it five new daily temperature records, the first substantial snow of the season and winds close to 100 mph.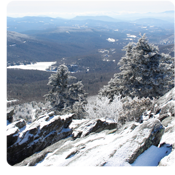 A frigid spell in the third week of the month set the following daily temperature records on the mountain:
Feb. 14: -10.8° (Previously -5° in 1971)
Feb. 15: -11.1° (Previously -6° in 1963)
Feb. 18: -15.4° (Previously -14° in 1958)
Feb. 19: -16.4° (Previously -8° in 1972)
Feb. 20: -10.7° (Previously -4° in 1972)
"Winter certainly took its time getting here, but it came full force once it arrived," said Public Relations Specialist Kellen Short. "It was especially neat to break several daily temperature records that have been standing since the 1950s and '60s. Depending on who you ask, that's either very exciting or very distressing."
---
STAFF EARNING MEDICAL RESPONDER CERTIFICATION
Eight Grandfather Mountain staff members are in the midst of a three-month medical first responder course aimed at ensuring the highest quality safety standards for guests of the park.
While the majority of staff members are trained in basic first aid and CPR, these eight will become certified to provide additional care in the event a visitor or employee has a medical emergency. The certification will allow them to administer oxygen and basic drugs to patients and respond to more serious medical emergencies, providing necessary care until advanced support arrives.
Assistant Vice President Jesse Pope said these types of emergencies are rare, but because Grandfather Mountain includes some more remote areas, he considers it wise for staff to be prepared.
"We're always there and responding, so this will just allow us to offer a higher level of care," Pope said.
---
REGISTRATION OPENS APRIL 1 FOR NATURE PHOTOGRAPHY WEEKEND
Online registration opens April 1 for the Grandfather Mountain Nature Photography Weekend, an inspiring event set for May 29-31 that's packed with enlightening presentations and opportunities to shoot in an unparalleled scenic environment.
"We're thrilled to welcome back our longtime participants and excited to meet some new faces," said Marketing Director Katie Casella. "We've got an excellent lineup of speakers this year, including Vinny Colucci, Alistair Nicol, David Marx, Justin Black and Brian Call."
The Nature Photography Weekend also includes opportunities to photograph at sunrise and sunset, chances to congregate with like-minded photographers from across the Southeast, and a friendly but competitive contest of shots taken throughout the weekend.
Past participants should note that registration will open at 8 a.m., rather than midnight as in previous years.
Click here to learn more about Nature Photography Weekend and start planning your trip.