Click here to see the rest of the 2011 Fall color Gallery.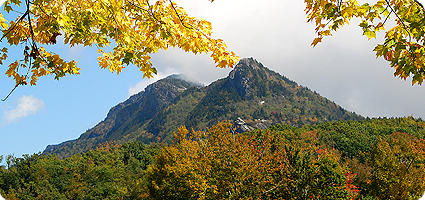 The color is turning fast above 4,000 feet — but this photograph by Helen Moss Davis of the peaks of Grandfather from MacRae Meadows shows that there are plenty of trees waiting to turn.   That is a good thing, because temperatures are falling, the wind is blowing and snow is in the forecast for Saturday.
The best to find color right now is at the intersection of NC 105 and NC 184 at Tynecastle and on the Blue Ridge Parkway as it crosses Grandfather Mountain between Beacon Heights (MP 305)  and Blowing Rock.  Other high elevations to look for great color will be Sugar Mountain and Beech Mountain.  Bundle up if you are going to the "Autumn at Oz" party at Beech Mountain this weekend!