Click here to see the rest of the 2011 Fall color Gallery.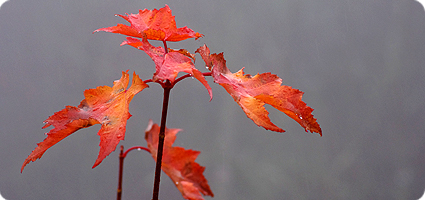 Oct. 28 – Lots of rain and fog on Grandfather today.  Tumbling temperatures and snow showers in the forecast for tonight.  The precipitation should clear Saturday morning for our Beary Scary Halloween celebration, but be certain your kids are bundled up in their costumes because it will be COLD. If you want to visit Grandfather after dark for the first ever Bonfire Bash, call 828-733-8715 to make your reservations soon and plan for temperatures below freezing! It will be a COLD, SPOOKY night on the mountain!
Catherine Morton took today's photo of lonesome leaves in the fog on the Blue Ridge Parkway near the Boone Fork parking lot.
Oct 29 Beary Scary Halloween 10:00-3:20 Kids in costumes admitted half price.
Oct 29 Bonfire Bash and Spooky Stroll 7-9 pm. Participants must be 12 years of age or older. Space is limited and reservations are required. Phone 828-733-8715.
The best route for leaf-looking continues to be the Blue Ridge Parkway from Cherokee to Virginia – but the trees with the most color will be below 3,000 feet.
Other colorful routes are:
US 221 from Marion to Linville Falls
US 321 from Hickory to Blowing Rock and Boone to Elizabethton, TN
US 421 from North Wilkesboro to Boone and Boone to Mountain City, TN
NC 181 from Morganton to Jonas Ridge
US 19E from Elizabethton, TN to Elk Park.
Tips for visiting Grandfather Mountain during fall color season.