Click here to see the rest of the 2011 Fall color Gallery.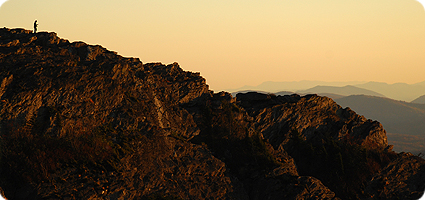 Oct. 26 – Another sunny day at Grandfather Mountain, and we are not complaining!  It is that time of year when Grandfather becomes the primo spot for looking out across color in the valleys, but the only autumn leaves you will see will be while driving through the foothills on your way to Grandfather.  Today's photograph by Helen Moss Davis captures the glow of the late afternoon light on Grandfather's Linville Peak.
Tips for visiting Grandfather Mountain during fall color season.
The best route for leaf-looking continues to be the Blue Ridge Parkway from Cherokee to Virginia – but the trees with the most color will be below 3,000 feet.
Other colorful routes are:
US 221 from Marion to Linville Falls
US 321 from Hickory to Blowing Rock and Boone to Elizabethton, TN
US 421 from North Wilkesboro to Boone and Boone to Mountain City, TN
NC 181 from Morganton to Jonas Ridge
US 19E from Elizabethton, TN to Elk Park.