ALMERINI WINS BEST IN SHOW AT 2014 NATURE PHOTOGRAPHY WEEKEND
Chris Almerini of Winston-Salem was awarded the Hugh Morton Best in Show Award on June 1 at the conclusion of the Grandfather Mountain Nature Photography Weekend.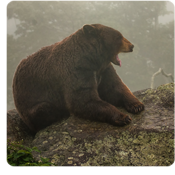 Almerini's photo of a yawning black bear in the Mountain's animal habitats impressed judges Mark Roberts, Kyle Cook and Jim Ruff. As winner of the weekend's top prize, Almerini receives an award certificate, bragging rights and the honor of having his image displayed in the Grandfather Mountain Nature Museum for the next four years.
The black bear image was just one of 34 recognized with awards as part of the weekend, which drew approximately 165 photographers to the Mountain from May 30-June 1 for outstanding presentations from photographers Gene Furr, Jim Ruff, Tony Sweet, John Isaac and Les Saucier. Participants also had opportunities to photograph at sunrise, sunset and throughout the weekend in spectacular mountain settings and interact with others who share their same passion for nature photography.
---
TIGER SALAMANDER MOVES TO GRANDFATHER
A new tiger salamander has taken up residence at Grandfather Mountain!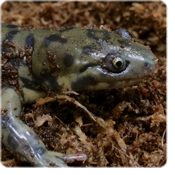 The new resident, "Xander," will be cared for by staff naturalists and will participate occasionally in educational programs at Grandfather Mountain. The salamander arrived at the Mountain on May 27 by way of the N.C. Wildlife Resources Commission after being confiscated from a person who was illegally keeping the creature.
The species is considered threatened in North Carolina due to habitat loss.
The tiger salamander (Ambystoma tigrinum) is one of the world's largest terrestrial salamanders and can grow as large as 13 inches. Xander is still maturing and has not yet reached adult size.
The tiger salamander is native to Eastern North Carolina and other regions, but other salamanders within the same genus, such as the spotted salamander, can be found on Grandfather Mountain. They prefer cool, moist conditions and commonly eat earthworms, spiders and other insects.
---
GRANDFATHER MOUNTAIN EARNS 2014 TRIPADVISOR CERTIFICATE OF EXCELLENCE
For the third consecutive year, Grandfather Mountain has earned a Certificate of Excellence from traveler review website TripAdvisor.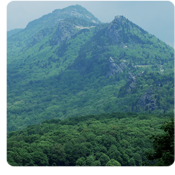 The accolade honors excellence in hospitality and is given only to establishments that consistently achieve outstanding traveler reviews on tripadvisor.com. Award recipients represent the upper echelon of businesses listed on the "world's largest travel site."
Grandfather Mountain currently holds a 4.5 overall rating based on its 609 visitor reviews. Approximately 250,000 people visit Grandfather Mountain in Linville each year. The park is open every day except Thanksgiving and Christmas and when winter weather prohibits.
---
OTTER HABITAT REOPENS AFTER RENOVATIONS
After a two-and-a-half-month closure for renovations, the otter habitat at Grandfather Mountain reopened in early May.
Otters Nottaway and Luna have relocated back into the public eye, allowing their adoring fans to watch their antics from a renovated underwater viewing area.
The habitat closed in late February to allow maintenance staff to repair the water-resistant membrane above the underwater viewing area. Water flow under the damaged membrane had caused cracks and crumbling in the cement and mortar of the structure.
The habitat staff also has resumed the otter enrichment sessions daily at noon and 3 p.m. During these sessions, keepers offer the otters special snacks or toys to keep them amused and intellectually stimulated.
"They're back to their old routine," said Habitats Curator Christie Tipton. "They're happily moved back in."
---
90th ANNUAL SINGING ON THE MOUNTAIN DEDICATED TO THE LATE ARTHUR SMITH
The 90th annual Singing on the Mountain at Grandfather Mountain will pay tribute to the late Arthur Smith, a legendary country, bluegrass and gospel musician and entertainer who died April 3.
The free gospel music festival, set for Sunday, June 22 at MacRae Meadows in Linville, promises a day of praise, fellowship and tributes to the musician long considered a friend of Grandfather Mountain.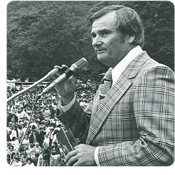 Smith and his "Crackerjacks" served as music masters of the event from the 1950s through the early 1980s. He also was a close personal friend of the late Hugh Morton, developer of Grandfather Mountain, and supported Morton's efforts on various civic causes.
Perhaps best known for his instrumentals "Guitar Boogie" and "Feudin' Banjos" ("Dueling Banjos"), Smith also wrote and performed an array of inspirational tunes including "Acres of Diamonds," "Because Jesus Said It" and "I Saw a Man."
The 2014 event will include a noon tribute to Smith followed by a sermon from featured speaker the Rev. Dr. Leighton Ford and music from a dozen outstanding gospel groups.