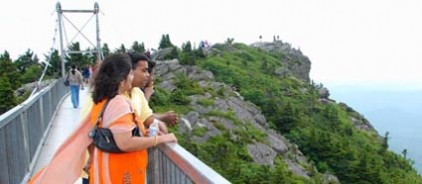 Grandfather Mountain's Calloway Peak is the highest point along the Blue Ridge Escarpment, reaching an elevation of 5,946 feet.
Visitors to Grandfather drive their own vehicles to an elevation of one mile above sea level, where they enjoy inspirational vistas stretching out for miles in every direction.
The Mile High Swinging Bridge is located next to the Top Shop parking area. The 228-foot steel structure is America's highest suspension footbridge.
The hiker's parking area is located three turns below the summit parking area and is the starting point for 12 miles of alpine trails through Grandfather Mountain's backcountry.