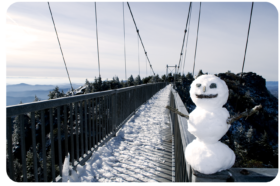 With winter on the way, Grandfather Mountain is decking its halls — and hills — for the holidays.
Visitors are invited to celebrate the season from a mile high, where they'll encounter idyllic winter scenery, invigorating outdoor adventure and more at the Linville, N.C., nature preserve and attraction.
Two Ways to Save
Grandfather Mountain offers two simple ways to save on park admission during the holiday season.
As a gesture of support for local tree farmers, anyone who arrives at the mountain with a tree atop their vehicle or a receipt from a local tree farm will receive $2 off each adult admission and $1 off each child admission.
December also marks the return of Dollar Days for local residents. From Dec. 1-31, anyone who lives or works in Alleghany, Ashe, Avery, Mitchell, Watauga or Wilkes counties will be admitted to the mountain for only $3 per person, with proof of local employment or residency.
In lieu of cash, Grandfather Mountain also will accept three cans of food from local residents for distribution to local food pantries. Christmas tree discounts may not be combined with Dollar Days discounts.
Nature Programs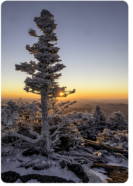 During this time of year, Grandfather Mountain is often described as a winter wonderland. But what makes it so?
Join Grandfather Mountain's naturalists for an open discussion on the mountain's winter wonders. From Dec. 20 through Jan. 16, noon to 2 p.m., naturalists will host an interpretive booth in the second floor exhibit space of the Top Shop.
"We'll talk about rime ice formation, the Fraser fir and red spruce forest, which you can think of as Grandfather Mountain's wild Christmas tree forest, and Grandfather's winter weather extremes," director of education Amy Renfranz said.
Shopping
Located in the Nature Museum and Top Shop, Grandfather Mountain's gift shops carry a variety of artisan crafts and goods, as well as signature Grandfather Mountain souvenirs, from apparel to hiking gear to drinkware and all things in between.
The shops, along with the mountain's Entrance Gate, also offer Grandfather Mountain gift cards, which are applicable toward admission, souvenirs, food, fudge and more.
Adopt-an-Animal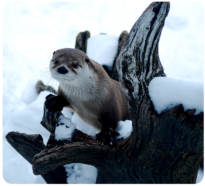 Looking for a gift that's warm and fuzzy? While Grandfather Mountain's resident animals are not for sale, the Adopt-an-Animal program is the next best thing — and a lot less messy.
The program allows participants to sponsor any of Grandfather Mountain's furry or feathered residents, including black bears, river otters, cougars, bald eagles and more.
By adopting an animal, individually or on behalf of a friend, family member or loved one, the sponsor will receive a special gift package. Gifts vary, depending on the donation level, and can include photographs, plush toys, plaster footprint castings, day passes and more.
Visit www.grandfather.com/preserving-protecting/adopt-an-animal/ to learn more.
Animal Wish List
Make an animal's season merry and bright by treating them to enrichments. An enrichment is a special treat or toy designed to break up the animals' routines and help keep them active and intellectually stimulated.
To see what the animals are hoping for this holiday season, visit their Amazon.com wish list at http://amzn.to/1Qr6gfU. For more information, email habitats@grandfather.com.
Guided Hikes
During wintertime, the weather outside isn't always frightful, and Grandfather Mountain's interpretive rangers are excited to share the mountain's wonder in any season.
For adventure-seekers, give the gift of a guided hike through Grandfather Mountain's rugged backcountry, including MacRae Peak, Attic Window and Calloway Peak, the latter of which reaches 5,946 feet above sea level.
Guided hikes have a two-person minimum, and reservations are required at least two weeks in advance. For more information, call (828) 737-0833, email hiking@grandfather.com, or visit www.grandfather.com/things-to-do/walking-hiking/guided-hikes/.
Keeper for a Day
For animal lovers, help them get up close and personal with Grandfather's resident animals.
The Keeper for a Day program provides a unique opportunity to spend a half-day shadowing and working alongside the keepers of Grandfather Mountain's environmental wildlife habitats, observing various training sessions, animal behavior and the inner workings of the park's habitats.
Keeper for a Day runs April through October, but reservations are accepted year-round. To learn more, email habitats@grandfather.com.
Fudge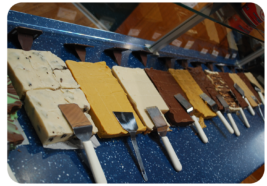 The views aren't the only thing sweet at Grandfather Mountain.
The mountain is also home to a fudge shop, which boasts a colorful variety of homemade, delectable and seasonal flavors.
New this season, the shop is offering fudge in reusable Christmas tins, starting at $8.50 for half a pound, $18 for 1.5 pounds and $30 for 2.25 pounds.
Although the shop is only open on weekends during winter, fudge will be available for sale daily in Mildred's Grill, located in the Nature Museum.
Fudge is also only a phone call away. Orders can be placed for pickup or home delivery by calling (828) 733-6518 or (828) 733-1058.
Season Passes
For a gift that keeps on giving, shoppers can purchase an annual membership to Grandfather Mountain's Bridge Club.
Starting at $30 for children and $70 for adults, Bridge Club membership offers unlimited, free admission to Grandfather Mountain for a year, exclusive discounts on and off the mountain, invitations to special member programs, a Bridge Club car decal and more.
Group passes are also available.
To learn more, visit www.grandfather.com/plan-your-visit/hours-and-rates/annual-passes/.
New Year's Sunrise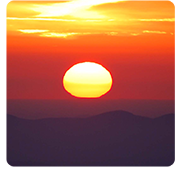 Ring in an epic New Year on Grandfather Mountain with the first sunrise of 2018.
On Monday, Jan. 1, the mountain will host another New Year's Sunrise event, offering guests the chance to start off their new year on a literal high note. Plus, attendees will be able to join in a community breakfast buffet with their fellow early risers.
Sunrise is at 7:38 a.m. Jan. 1, 2018, and Grandfather's gates will open at 6:30 a.m. Due to safety regulations, participants may only visit the Mile High Swinging Bridge area during the event.
Admission to the New Year's sunrise opportunity and breakfast costs $20, in addition to general admission. Guests are free to remain in the park all day, but those who leave before 9:30 a.m. will have their general admission charge refunded. Bridge Club members, who receive free admission to the mountain, will only pay $15 for the sunrise and breakfast.
The event is open to no more than 40 participants, and registration is required. To register, contact Judi Sawyer at (828) 733-2013 or judi@grandfather.com.
Grandfather Mountain is open daily throughout winter, weather permitting, except for Thanksgiving and Christmas. When winter weather arrives, visitors are encouraged to call the Entrance Gate at (828) 733-4337 to confirm the day's conditions and set the stage for a memorable outing. For more information, call (800) 468-7325.