Field Trip Scholarship Fund
Grandfather Mountain Field Trip Scholarship Fund
— In Memory of Nathan Pribble —
In spring 2015, Grandfather Mountain launched its Field Trip Scholarship Fund to benefit school groups in need of financial assistance to defray the cost of an educational field trip to the park.
The Scholarship Fund honors the memory of Nathan Pribble of Apex, N.C., who died unexpectedly in 2014 at age 18. Nathan and his family were frequent visitors to Grandfather Mountain, and, after his death, his family requested that memorials be made to the Grandfather Mountain Stewardship Foundation.
"Nathan was a nature-lover all his life, so it was only natural that we asked for memorials to go somewhere that would mean something to Nathan," said his mother, Robin Pribble. "Helping students that otherwise might not have an opportunity to go to Grandfather Mountain is definitely something that would matter to him."
In addition to individual contributions made in Nathan's memory, the fund is bolstered by generous donations from Holbrook Field Trips and the Duke Energy Foundation. Grandfather Mountain welcomed its first scholarship recipients in fall 2015.
"We feel outdoor experiences at places like Grandfather Mountain enhance a child's understanding of the natural world," said Jesse Pope, executive director of the Grandfather Mountain Stewardship Foundation, the nonprofit organization that oversees the popular attraction. "School budgets have taken big hits in recent years, and teachers have a much harder time justifying field trips. We hope these funds will help kids come experience this very special place."
WHY VISIT GRANDFATHER MOUNTAIN AS A CLASS?
A visit to Grandfather Mountain is an opportunity for students to enrich and deepen their classroom studies through hands-on inquiry in a unique mountain ecosystem.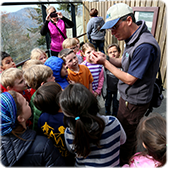 Our group tour coordinator and staff naturalists can help teachers design an itinerary that meets their group's educational goals, timeline and budget.
Grandfather Mountain offers naturalist programs, aligned with North Carolina's curriculum, on a variety of topics, from animal behavior to weather to geology. Click here for a full list of educational programs.
We can even provide in-park shuttles and prepared lunches by request to make your visit simpler!
SCHOLARSHIP CRITERIA
Scholarship amounts will vary based on stated need and number of students. Scholarship recipients may use the funding for all direct expenses related to the trip, including travel, admission and meals.
Scholarships are primarily offered to North Carolina Public Schools that are interested in visiting Grandfather Mountain on an educational field trip. Other organizations with students may apply; they will be considered if they demonstrate that the trip aids in fulfilling educational goals.
Preference will be given to:
— North Carolina schools (pre-K through 12th grade)
— Title I schools or those with demonstrated financial need
— Applicants studying a specific content area or curriculum unit that would benefit from field-based study at Grandfather Mountain.
HOW TO APPLY
To apply, please download an application, fill it out completely, including an estimated budget for your trip, and return it to nature@grandfather.com.
Applications deadlines are: June 30 for fall field trips and Dec. 31 for spring field trips
We also encourage you to reserve your preferred field trip date with the group tour coordinator by calling (828) 733-2013 during regular business hours.
An independent selection committee will review applications and determine which schools to select for scholarship funding each spring and fall. The committee includes members of the Pribble family, as well as retired teachers and other individuals.
HOW TO DONATE
Businesses and individuals are needed to help sustain the Field Trip Scholarship Fund for years to come. Your contributions will help instill a love of nature and learning in young students for the rest of their lives.
Donations to the 501(c)(3) Grandfather Mountain Stewardship Foundation are tax-deductible. Contributions earmarked for the scholarship fund will not be used for any other purpose.
To contribute, contact executive director Jesse Pope at (828) 733-2013, or email jesse@grandfather.com.