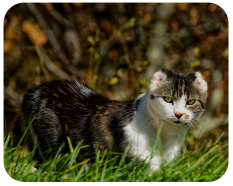 On Wednesday, Oct. 12, Grandfather Mountain bid a difficult, but fond farewell to Moochie, the house cat widely known as the animal habitats' official mascot.
But Moochie was more than that.
In 2002, a feral house cat showed up on Grandfather Mountain. With lots of time, patience and plenty of bribery, he finally allowed the habitat keepers to take him in.
While the keepers thought of him as an animal in their care, Moochie actually became more of the keepers' caretaker. Every morning and evening, he escorted his keepers out to the habitat paths and made rounds with them, waiting outside each of the buildings for them to finish feeding, watering and cleaning.
Moochie really enjoyed walking his keepers to lunch, and instead of wandering off while they were eating, he would wait in the woods so he could pop out to greet them and walk them safely back to the office. He would also often be seen making his rounds about the mountain, checking on other departments to ensure everything was in order.
Although Moochie started out extremely nervous around people, it was truly the extreme love for his keepers that kept him going in his last days. Moochie was certainly one of a kind, and will forever be remembered as the cat with the biggest heart and a "keeper" soul.