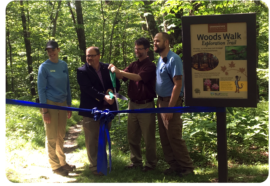 With the help of a grant from the Blue Ridge National Heritage Area, visitors to Grandfather Mountain can learn to embrace nature through a series of interpretive signs.
On Thursday, June 7, the Linville, N.C., nature park held a ribbon-cutting ceremony for its recently renovated Woods Walk nature trail.
The Woods Walk trail offers a short, easy walk through a hardwood forest, ideal for small children, older visitors or those just looking for a more leisurely hike. Thanks to the BRNHA's generous donation, the trail now features brand-new interpretive signage, informing hikers of the forest's many wonders and inviting them to engage with the natural world around them.
"With these new signs, our guests can learn about the varied inhabitants of a northern hardwood forest, like the Eastern screech owl, what makes an ecosystem thrive, how one can help it thrive and much, much more," said Frank Ruggiero, director of marketing and communications for the Grandfather Mountain Stewardship Foundation, the nonprofit organization that oversees and operates the park. "Thanks to our friends at the Blue Ridge National Heritage Area, our guests will be able to connect with the Woods Walk trail like never before."
Including the Woods Walk, Grandfather Mountain offers access to more than 12 miles of hiking trails, many of which extend into the neighboring Grandfather Mountain State Park. To learn more about hiking on the mountain, visit www.grandfathermtn-staging.v38mw8dg-liquidwebsites.com/things-to-do/walking-hiking/.
The not-for-profit Grandfather Mountain Stewardship Foundation strives to inspire conservation of the natural world by helping guests explore, understand and value the wonders of Grandfather Mountain. For more information, call (800) 468-7325.