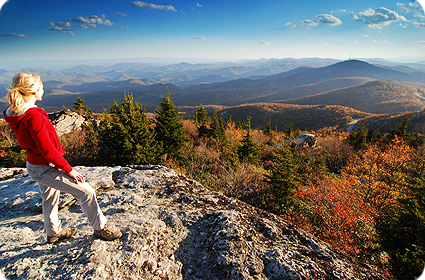 GRANDFATHER MOUNTAIN, N.C. – The first hints of autumn are in the air and Grandfather Mountain is preparing for the vibrant colors that are sure to follow.  In an effort to help visitors experience all of the beauty that the High Country has to offer, Grandfather Mountain provides many opportunities for guests to learn more about the amazing transformation that overtakes the forest in fall.
"We are seeing lots of color change already for this early in September. The trees are looking healthy with lots of leaves, so I'm very optimistic that this will be a good season," said Director of Education Jesse Pope. "The peak viewing time in the higher elevations will likely be around the first two weeks in October."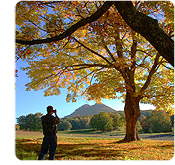 Grandfather Mountain has ideal conditions for leaf looking due to a wide range in elevation, which allows visitors to see the changing leaves over a greater number of weeks.  On the weekends of October 8-9 and October 15-16 Grandfather's Interpretive Rangers and Naturalists will offer "The Colors of Grandfather" guided walks at 1 p.m. These hikes will lead guests through woodlands populated by many different species of hardwoods, provide an opportunity to learn more about the phenomenon of leaf change, and answer questions about Grandfather's unique ecosystem.
Grandfather is a great destination for leaf looking, not only because its high peaks are a good vantage point for looking out across the color on the hillsides below, but because the mountain hosts such a tremendous variety of plant life.
In addition to the planned programming inside the park in October, fresh fall color photos are posted daily throughout the month on the Mountain's website, Facebook page and Twitter account. These postings include up-to-date reports on leaf looking conditions, helpful tips for visiting the area in fall and the best routes for finding the brightest trees.
Grandfather Mountain is a globally recognized nature preserve famous for its 360-degree vistas, native wildlife habitats and Mile High Swinging Bridge. The attraction is located on US Highway 221, two miles north of Linville, NC, and one mile south of the Blue Ridge Parkway at milepost 305.
The Grandfather Mountain Stewardship Foundation is a not-for-profit corporation established to preserve Grandfather Mountain, operate the nature park in the public interest and participate in educational research activities.  For more information phone 800-468-7325 or plan a trip at www.grandfathermtn-staging.v38mw8dg-liquidwebsites.com.