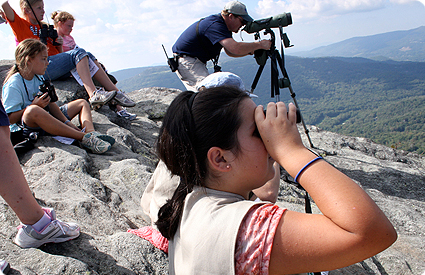 GRANDFATHER MOUNTAIN, N.C. – Fall at Grandfather Mountain offers an extraordinary chance to view the migration of some incredible birds.  Visitors have an ideal vantage point to catch a glimpse of everything from hawks, falcons and other birds of prey to Monarch butterflies and more than 11 different species of warblers.
From late September to mid October, some of the Naturalist programs that take place daily at 1 p.m. will focus on hawk migration and Monarch watching. These programs are ideal for avid bird-watchers and families alike. Participants will learn about the winged animals and their fascinating migratory habits.
The Mountain's higher overlooks afford the perfect perspective for visitors keeping an eye to the sky.
"Linville Peak is a great bird-watching location this time of year," said Jesse Pope, director of education.  "Visitors of all ages will be able to appreciate this spectacle."
Broad-wing hawk migration is especially striking to witness as hundreds or even thousands can be spotted in a single day. The hawks form kettles that look like a large tornado cloud and can contain hundreds of birds. The North Carolina record claims over 12,000 hawks were spotted one day during migration in Wilkes County. Their journey begins around northern Canada and the arctic tundra and comes to an end in Mexico.
During the month of October guests can expect to see Bald and Golden Eagles from atop the Mountain. Vultures are the last to migrate and will begin in November.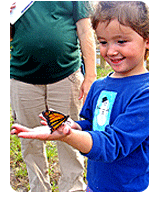 Monarch butterflies have equally astonishing migratory habits. These tiny creatures travel thousands of miles to spend winter in Mexico. Grandfather Mountain researches this behavior by raising Monarchs from caterpillar to chrysalis to butterfly in order to tag and release them into the wild. Guests have the opportunity to witness this transformation and learn more about the long journey that will follow.
For more information on daily Naturalist programs call 828-733-4326.
Grandfather Mountain is a globally recognized nature preserve famous for its 360-degree vistas, native wildlife habitats and Mile High Swinging Bridge. The attraction is located on US Highway 221, two miles north of Linville, NC, and one mile south of the Blue Ridge Parkway at milepost 305.
The Grandfather Mountain Stewardship Foundation is a not-for-profit corporation established to preserve Grandfather Mountain, operate the nature park in the public interest and participate in educational research activities.  For more information phone 800-468-7325 or plan a trip at www.grandfathermtn-staging.v38mw8dg-liquidwebsites.com