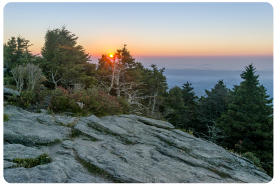 With autumn in full swing, Grandfather Mountain is offering guests the chance to see fall color in a different light — literally.
For four dates in October, the Linville, N.C.-based nature preserve and travel attraction will host sunrise and sunset opportunities, allowing guests to witness the splendor of the day's beginning or end from the High Country's highest peak.
Sunset opportunities will take place Thursdays, Oct. 13 and 20, while sunrise opportunities will be held Tuesdays, Oct. 18 and 25.
"Autumn is one of the best times to visit Grandfather Mountain," said Frank Ruggiero, director of marketing and communications for the Grandfather Mountain Stewardship Foundation, the nonprofit organization that oversees the park. "The colors are bountiful, the air is crisp, and the sunrises and sunsets are nothing short of magnificent."
All events are weather-dependent and may be cancelled with short notice in case of inclement weather conditions.
Admission to either of these special after-hours events is $10 per person ($5 for Bridge Club members) and is limited to the first 30 registrants. To register, email frank@grandfathermtn-staging.v38mw8dg-liquidwebsites.com, or call (828) 733-2013 during business hours (Monday through Friday, 9 a.m. to 5 p.m.).
Since temperatures are significantly lower on Grandfather Mountain, especially at dusk and dawn, participants should wear warm clothes, as well as rubber-soled shoes, since some surfaces can be rugged and slick. Guests are also encouraged to bring a flashlight.