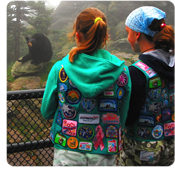 Daisies, Brownies, Juniors, Cadettes, Seniors, Ambassadors and… Bears?
For 47 years, Grandfather Mountain has celebrated the Girl Scouts of the United States of America, and the tradition continues Saturday, Sept. 16, as the Linville, N.C., nature preserve and attractionhosts its annual Girl Scout Day.
On Girl Scout Day, all Girl Scouts and their troop leaders are admitted free with proof of membership, while discounted admission is available for family members joining them.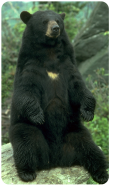 The tradition started in 1971, when Grandfather Mountain "adopted the Girl Scouts." The scouts returned the favor by adopting Grandfather's mascot, Mildred the black bear, even presenting her with special pins to celebrate her years with the organization.
Forty-six years later, scouts will return to Grandfather for a mountain's worth of outdoor fun. This year's event focuses on ecology, and staff naturalist Marisa Sedlak — a former Girl Scout, herself — promises it'll be both fun and educational.
"This year, our Girl Scout Day theme is ecology, so through different programs, we will learn how all the organisms on Grandfather interact," Sedlak said. "We'll learn how plant and tree species are affected by elevation and how different animals on the mountain interact with each other. We'll even dissect owl pellets to learn how owls digest their food."
As with 2016's Girl Scout Day, many of the activities have been broken down by badge requirements for different age groups, Sedlak said, "so they'll be able to knock out some steps to their badges."
Plus, this year's celebration features a very special guest in Dr. Meg "Canopy Meg" Lowman.
Described as a "real-life Lorax" by National Geographic and the "Einstein of the treetops" by The Wall Street Journal, due to her passion for trees and forest conservation, Lowman is an author, explorer, scientist, arbornaut (treetop explorer), mother and change-agent for conservation.
"She will be giving a few talks, along with a meet-and-greet in the afternoon, where she can guide girls in how to get involved in the science field," Sedlak said.
The fun starts at 9 a.m. with check-in at the park's Nature Museum and concludes at 3:30 p.m. with a closing ceremony.
To see the full event schedule, click here.
For more information on Girl Scout Day, call the Grandfather Mountain Naturalist Office at (828) 733-4326, or email naturalists@grandfathermtn-staging.v38mw8dg-liquidwebsites.com.
The not-for-profit Grandfather Mountain Stewardship Foundation strives to inspire conservation of the natural world by helping guests explore, understand and value the wonders of Grandfather Mountain. For more information, call (800) 468-7325.