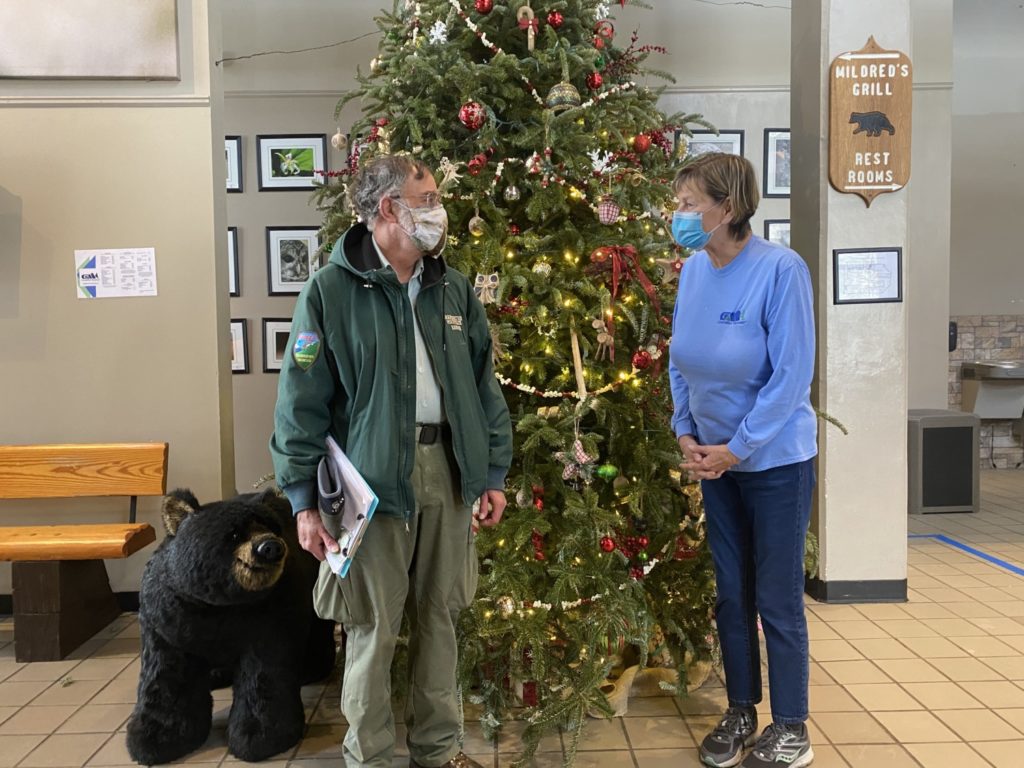 Grandfather Mountain is known for its Mile High Swinging Bridge, but when it comes to service, the nonprofit nature park's staff aims even higher.
In the first week of January, Harris Prevost, director of guest experience and external relations, announced the 2020 recipients for the Bill Alexander and Martha Oberhelman Award: Steve Miller and Jane Galloway.
The Bill Alexander Award acknowledges the staff member who goes above and beyond the call of duty in serving park guests, while the Martha Oberhelman Award recognizes the staff member who provides exceptional service to fellow employees.
Alexander spent nearly half a century helping customers and his fellow staff members. He was known for going the extra mile to teach, encourage and share the load of his many friends on the Mountain.
Oberhelman was known for her exemplary service to customers, the personal interest she took in them and the memorable experience they received when they came in contact with her.
In the 24th year since the awards' conception, fellow staff members and past recipients recognize the best in Grandfather's service-minded staff.
This year's Bill Award was presented to head of park safety, Steve Miller. Miller can be described as a "Swiss Army Knife," capable of completing many different tasks across numerous departments.
In nominating Miller, his fellow staff members said:
"He helps other departments on busy days, when staff is stretched to the max. He may be in the kitchen or at the gate or helping at the shops. He may even be outside directing traffic or parking cars. In a nutshell, he's everywhere."
"He's a behind-the-scenes guy, but he needs to know that he is greatly appreciated for helping out when needed."
"He is always helping other departments. I nominate him because he's willing to help when he sees people need it."
Miller has been at Grandfather Mountain for 38 years and is the only member of our staff to be head of three different departments throughout his career— habitats, trails and safety.
While accepting the award, Miller thought back to when it first originated.
"I remember the first time we started the Bill and Martha Award program, and I had the honor of picking the first member of the Bill Award," Miller said. "So, it's been a long time since we started that up and got it going. Thank you. I appreciate it, and I appreciate you all supporting the safety program."
This year's Martha Award was presented to food and beverage attendant Jane Galloway. Galloway has been compared by staff members to a "mother hen"—taking care of coworkers and guests alike.
"We work with the nicest people anywhere in the world, and that's why I don't want to be anywhere else," Galloway said. "Because if you're going to grow a family at my age, you are the people I want to grow with. So, thank you."
In nominating Galloway, her fellow coworkers said:
"I've never seen anyone on the mountain treat our guests as well as she does. She always strives to make guests feel special."
"She's willing to drop anything if she sees a customer or fellow employee in need. She provides a shoulder to lean on."
"She's always ready to come in, even on her days off, even when the mountain is closed, just to feed the staff members."
Jesse Pope, the park's president and executive director, said, "Thank you so much for being such long-time, very supportive members of this family. You've always been a great support to all of us, and we really appreciate everything that you do. Both of you stepped up so much. There were times when you were coming in on your days off to fill in shifts and doing things way outside your regular realm. So, we very much recognize you for your hard work this year, and we greatly appreciate it."
The nonprofit Grandfather Mountain Stewardship Foundation strives to inspire conservation of the natural world by helping guests explore, understand and value the wonders of Grandfather Mountain. For more information or to book a trip, visit www.grandfather.com or call 800-468-7325.
---