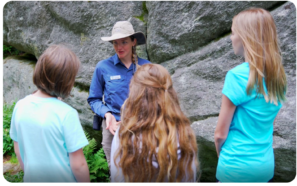 It costs only $10 to send a child on a Grandfather Mountain field trip.
The resulting experience, however, is priceless.
To bolster its field trip scholarship, the nonprofit Grandfather Mountain Stewardship Foundation is again participating in #GivingTuesday, a global day of giving on Nov. 27, the Tuesday after Thanksgiving,
Proceeds from the fundraiser will directly benefit the Grandfather Mountain Field Trip Scholarship in Honor of Nathan Pribble, a program that awards funding to schools in financial need to book a field trip to Grandfather Mountain. The scholarship offers such schools complimentary educational programming, as well as reduced or free admission and help with transportation costs.
"Many of our students come from households that could not afford to go on a trip like this," said Fran Long, a teacher at Balls Creek Elementary in Newton, N.C., who was awarded a $950 scholarship in Fall 2018, which covered 100 percent of her class's transportation and admission costs.
Long said the field trip not only provided students with hands-on knowledge, but offered them the chance to learn outside of the classroom.
"Many of our students never have the opportunity to travel outside of Catawba County, and this would be a once in the lifetime opportunity for them," she said.
Since 2016, the scholarship has awarded $36,396.49 to Title 1 schools in North Carolina. In 2018 alone, the mountain awarded $10,000 to nearly 900 students.
Scholarships are offered for spring and fall field trips, and amounts are based on a stated need and number of students. Recipients may use the funding for all direct expenses related to the trip, including travel, admission and meals.
Scholarships are primarily offered to North Carolina public schools, although other organizations with students may apply. Preference is given to:
North Carolina schools (pre-K through 12th grade)
Title 1 schools or those with demonstrated financial need
Applicants studying a specific content area or curriculum that would benefit from field-based study at Grandfather Mountain
Application deadlines are Dec. 31 for spring field trips and June 30 for fall field trips. To apply, download an application at https://bit.ly/2q15VqZ.
A Lasting Legacy
The scholarship was established in 2015 in honor of the late Nathan Pribble, a teenager passionate about the great outdoors. To Pribble, though, "passionate" was something of an understatement.
To him, it meant connecting with nature and sharing it with his family and friends. He and his family — parents Bill and Robin, sister Kit and brother Carson — shared this connection at Grandfather Mountain, traveling frequently from their home in Apex, N.C., to the Linville, N.C., nature park.
When Pribble died unexpectedly in October 2014 at the age of 18, his parents decided to honor their son's memory by sharing his passion for nature with others.
"Nathan was a nature lover all his life, so it was only natural that we asked for memorials to go somewhere that would mean something to him," Robin Pribble said.
As such, the Pribbles requested that memorial contributions be made to the Grandfather Mountain Stewardship Foundation, the nonprofit organization that owns and operates the nature park, to help provide field trips for underfunded schools.
"Helping students that otherwise might not have an opportunity to go to Grandfather Mountain is something that would matter to him," Pribble said.
For her, it was a joy to see Nathan's legacy have a significant and meaningful impact.
"For these students, having the opportunity to spend a day outside of the classroom and in the fresh air was life-changing," she said. "I believe students and chaperones leave the mountain with more knowledge and love of nature than when they arrive. It's a beautiful thing to see. My whole family has enjoyed coming up and seeing the school groups who have benefited from the fund.
"I've received thank-you cards and pictures from teachers and kids, as well, and my hope is to see the scholarship continue to grow. I'm so proud of it, and it makes my heart happy every time I see Nathan's name. Having this for Nathan means so much, especially being somewhere that he loved so very much."
#GivingTuesday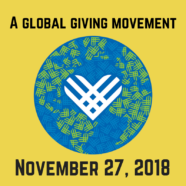 #GivingTuesday is a global day of giving that harnesses the collective power of individuals, communities and organizations to encourage philanthropy and to celebrate generosity worldwide.
Following Thanksgiving and the widely recognized shopping events, Black Friday and Cyber Monday, this year's #GivingTuesday will take place on Nov. 27 and will kick off the giving season by inspiring people to collaborate and give back.
Founded in 2012 by the 92nd Street Y — a community and cultural center in New York City — #GivingTuesday inspired millions of people to give back and support the causes they believe in. More than $300 million was raised online to benefit a tremendously broad range of organizations, and much more was given in volunteer hours, donations of food and clothing, and acts of kindness.
Grandfather Mountain's previous #GivingTuesday efforts provided much needed supplies, including resting platforms, for its two cougar cub rescues, Logan and Trinity, with funds directly benefiting the big cats and their habitat.
"The support was overwhelming," said Frank Ruggiero, Grandfather Mountain's director of marketing and communications. "And every little bit counts. For instance, $10 can fund one child's visit to the mountain. If we raised just $2,000, that means 200 schoolchildren could experience our classroom in the clouds."
How to Donate
On Tuesday, Nov. 27, Grandfather Mountain will be accepting #GivingTuesday donations to benefit the scholarship fund.
Posts will be made on the mountain's social media outlets, including Facebook, Twitter and Instagram, with links to a special donate site. Friends of the mountain may also contribute by visiting www.grandfathermtn-staging.v38mw8dg-liquidwebsites.com and clicking on the #GivingTuesday link.
The not-for-profit Grandfather Mountain Stewardship Foundation strives to inspire conservation of the natural world by helping guests explore, understand and value the wonders of Grandfather Mountain. For more information, call (800) 468-7325.