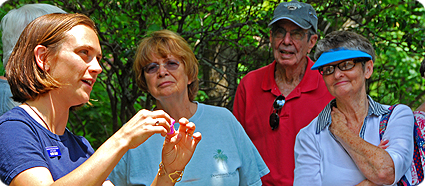 Naturalist Programs
Watch a nature program on TV with the sound turned down, and you will enjoy the beauty and drama. Turn the sound up, and you'll also be enlightened with lots of interesting details that bring extra meaning and interest to the images you see unfolding on the screen.
So it is when you visit Grandfather Mountain in the company of one of our staff naturalists. Any time you visit, you will enjoy the breathtaking scenery and entertaining animals, but tag along with a staff naturalist, and you'll take away a much greater understanding of what you have seen and a much deeper appreciation of how rare and wonderful this Mountain truly is.
Our Naturalists and Interpretive Rangers offer an array of programs that allows them to share their love and enthusiasm for all things natural with Grandfather Mountain's guests. From slide programs on otters and bears to a hands-on show-and-tell with animal skins and deer antlers, from a close-range interaction with a barred owl to guided hikes across Grandfather's rugged peaks, Grandfather's naturalists will be happy to tailor any sort of interpretive activity that will make your experience of Grandfather Mountain fun and meaningful.
Many programs are offered on a regular schedule and are included in the cost of admission. Other programs are available upon request and will require an additional activity fee. Call (828) 733-4326 for details, or email Amy Renfranz, education specialist with Grandfather Mountain's Department of Education and Natural Resources, at amy@grandfather.com.
To see a schedule of daily events, click here.