Date: Saturday June 24 , 2017
Time: 10:00 am - 05:00 pm
Category: Adult Field Courses
Cost: $40 general/$20 Bridge Club
Participants of this 7-hour program, hosted by Dr. Wayne VanDevender, will traverse Grandfather's natural communities in search of its most prolific predators: salamanders.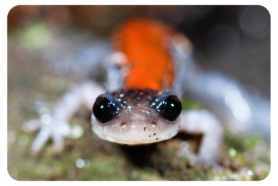 Your expert guide, Dr. VanDevender, will lead discussions on the salamanders' natural history and fragile future. This adult field course is limited to 12 participants and costs $40 for general registration or $20 for Bridge Club members.
Adult Field Courses
Examine specific aspects of the park ecosystem through just the right combination of fun field excursions and classroom presentations. Our course leaders are experts in their fields and include professors, naturalists, scientists and acclaimed photographers, writers, historians and artists. Most courses — with the exception of this particular session — run from 10 a.m. to 4 p.m., unless otherwise stated, and lunch will be eaten in the field. Please bring your own lunch. To register, and for more information, email judi@grandfather.com.
Each adult field course counts as six hours toward the N.C. Environmental Educator Certification Criteria II, with the exception of "Salamanders of Grandfather," which counts as seven.
Location: Grandfather Mountain
Address: 2050 Blowing Rock Highway, Linville, NC 28646