Date: Monday January 01 , 2018
Time: 06:30 am - 09:30 am
Category: Featured Events
Cost: $20 ($15 for Bridge Club)
Ring in an epic New Year on Grandfather Mountain with the first sunrise of 2018. On Monday, Jan. 1, the mountain will host another New Year's Sunrise event, offering guests the chance to start off their new year on a literal high note. Plus, attendees will be able to join in a community breakfast buffet with their fellow early risers.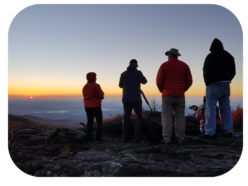 Sunrise is at 7:38 a.m. Jan. 1, 2018, and Grandfather's gates will open at 6:30 a.m. Due to safety regulations, participants may only visit the Mile High Swinging Bridge area during the event.
Guests are encouraged to bring a flashlight and wear heavy winter jackets, hats, gloves and rubber-soled shoes, as there may be slick surfaces on the mountain. The event may be cancelled upon short notice in case of inclement weather.
Admission to the New Year's sunrise opportunity and breakfast costs $20, in addition to general admission. Guests are free to remain in the park all day, but those who leave before 9:30 a.m. will have their general admission charge refunded. Bridge Club members, who receive free admission to the mountain, will only pay $15 for the sunrise and breakfast.
The event is open to no more than 100 participants, and registration is required. To register, contact Judi Sawyer at (828) 733-2013 or judi@grandfather.com.
Location: Grandfather Mountain
Address: 2050 Blowing Rock Highway, Linville, NC 28646