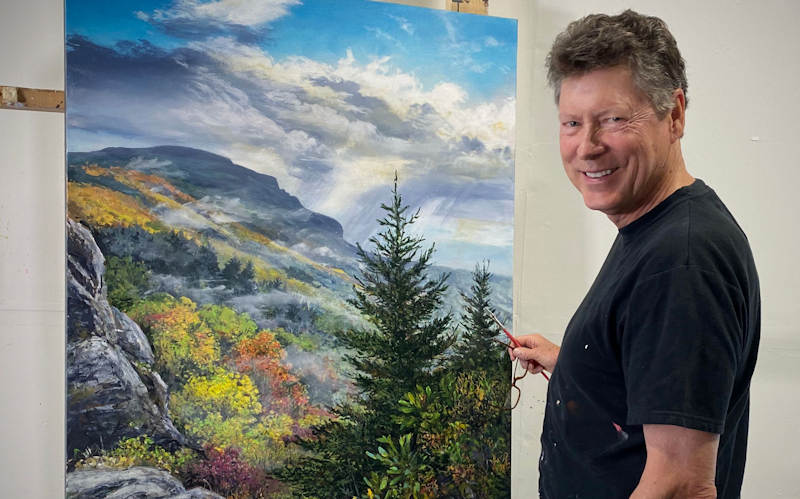 Join us for a beautiful journey celebrating our state's treasures through an artist's eyes with "North Carolina Beautiful by Artist William Mangum." The one-hour presentation begins at 2 p.m. inside the Wilson Center for Nature Discovery and is included with your daily admission ticket (free with Bridge Club Annual Pass). This is part of our Grandfather Presents Series.
From the barrier reefs of the Outer Banks to the Blue Ridge Parkway, North Carolina is a splendor for all to see. William Mangum has celebrated the majesty of the Old North State for more than 40 years with his glorious paintings. Explore, Celebrate and Protect are the essence of this prolific artist's mission. He has created more than 4,000 original works of art from around the world, but it is his beloved state of North Carolina that he considers an artist's paradise.
With more than a dozen books and two PBS documentaries of his work, Mangum takes you on a journey through the state as he captures the ordinary and turns it into the extraordinary with the stroke of his brush. From well-known landmarks to colorful out-of-the-way places, Mangum's unique perspective leaves the viewer mystified by the variety and substance he captures in each work.
Bill also recognizes the importance of conservation and preservation. Grandfather Mountain is a perfect example of Bill's collaboration with organizations that preserve the crown jewels of North Carolina. Hugh Morton was not only a fan of Bill's artwork but a leading contributor in his most storied project, "CAROLINA PRESERVES," a magnificent coffee table book and documentary by PBS. For more about Bill's art: Williammangum.com.
Please RSVP below for the event in advance. Last-minute walk-ins welcome as seating allows. Chat with the speaker 30 minutes before and after.
Tickets are not available as this event has passed.