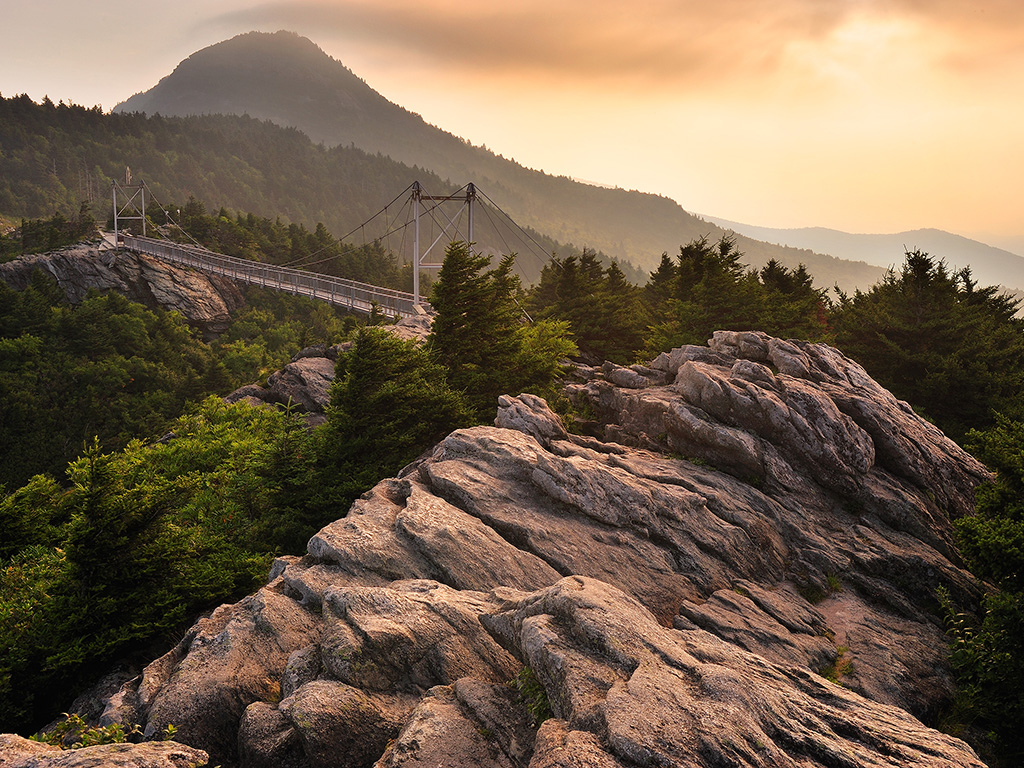 Enjoy the rare opportunity to visit Grandfather Mountain outside of regular operating hours and see a sunrise from the top of the mountain. Sunrise is at 7:14 a.m. Nov. 25, 2023, and park gates open at 6:15 a.m. Due to safety regulations, participants may only visit the Mile High Swinging Bridge area during the event. The Top Shop gift shop and restrooms will be accessible during this time. A fun family event for Thanksgiving Weekend!
Participants are encouraged to bring a flashlight and wear heavy winter jackets, hats, gloves and rubber-soled shoes. The event may be canceled on short notice in case of inclement weather. In addition, a picture-perfect sunrise, unfortunately, cannot be guaranteed.
Tickets for this event go on sale here at 10 a.m. Monday, October 16. Admission to this Sunrise at the Swinging Bridge event costs $40 for general admission, $24 for children (ages 4-12) and $14 for members of Grandfather Mountain's Bridge Club. Admission includes an entire day's access to Grandfather Mountain. As the remainder of the park doesn't open until 9 a.m., participants are welcome to leave the park following sunrise to return later in the day for no additional cost.
This event is limited to 150 guests.
Cancellation/Refund Policy
The majority of Grandfather Mountain events generally sell out and have a waiting list. If you cannot attend this event, please let us know. Full refunds will be given to individuals who reach out by Monday, Nov. 20. This allows time for individuals on the waiting list to make accommodations to attend the event. To cancel your registration, email judi@grandfather.com or call 828-733-2013, Monday to Friday, 9 a.m. – 5 p.m.
If Grandfather Mountain Stewardship Foundation cancels the event due to inclement weather, full refunds will be given.