Adult Field Course: Introduction to Backpacking
September 8, 2023 @1:00 pm

-

September 9, 2023 @12:00 pm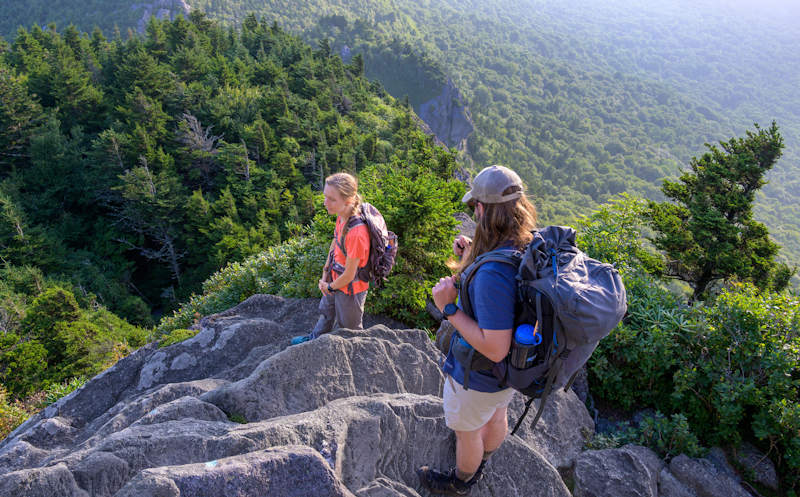 For thousands of years, people have been drawn to explore Grandfather Mountain. The rugged terrain, unique ecosystems, extreme weather, and breathtaking views have enticed countless explorers and recreationalist alike. This Adult Field Course will give participants a chance to experience the wonders of Grandfather Mountain during the day and night by backpack camping overnight at one of the primitive backcountry campsites on the mountain. Participants will gain experience in planning a trip, using backpacking gear, and work on backcountry hard skills, as well as learn about the unique ecosystems that make Grandfather Mountain so special.
Participants will be camping at the Calloway Gap campsite in Grandfather Mountain State Park. No campfires are allowed at this site, so all food preparation will need to via camp stove or through non-fire prep. The Grandfather Trail is considered a very difficult trail and includes many steep climbs at times utilizing ladders and cables to assist hikers through difficult sections. Prior hiking experience is required. Prior backpacking experience is not required, but participants will need to provide all of their own equipment for this field course.
Eric Payne is the Assistant Director of Outdoor Adventure at East Tennessee State University where he manages the Campus Recreation Outdoor Program that includes backpacking and camping trips for students. He also teaches the Fundamentals of Backpacking as an activity course to students of all ages. He has worked in the outdoor industry for over a decade and currently explores Western North Carolina and Eastern Tennessee from his home in Johnson City.
Program Itinerary
Saturday, August 19: 4:00 p.m. – 5:00 p.m. Pre-trip planning meeting (introductions, gear discussion, route plan, etc.)
Friday, September 8, 2023
1:00 p.m.: Participants will meet at Grandfather Mountain for pre-trip discussion and to start the hike
4:30 p.m.: Group will plan to arrive at the destination campsite and prepare camp
Saturday, September 9, 2023
9:00 a.m.: Participants will break down camp and hike back to the Grandfather Mountain trailhead
12:00 p.m.: Participants will do a post-trip debrief and adjourn
Registration
This Adult Field Course costs $100 for general admission and $85 for members of Grandfather Mountain's Bridge Club, plus tax. Attendance is limited to 8 participants. Registration opens on this page on July 10 at 9 a.m.
Your program cost includes admission into the park, field instruction, and transportation during your program (you may drive your own vehicle to visit sites on the mountain if you would prefer). It does not include meals or lodging. Bringing a bagged lunch is recommended for most field courses, although Mildred's Grill will be open to attendees. Tips are not accepted for field courses. However, donations to the Grandfather Mountain Stewardship Foundation are accepted if you would like to recognize a program.
General Clothing List
Much of your time will be spent outdoors and all programs are held rain, snow or shine. You should be prepared for a variety of mountain weather conditions and temperatures. Appropriate clothing, equipment, and footwear are very important. A recommended gear/equipment list will be provided.
Refunds/Cancellations
Adult Field Courses generally sell out and have a waiting list associated with the event. If you cannot attend the field course that you are registered for, a full refund will be granted within a 5-day notice of the day of the field course. This allows time for individuals on the waiting list to make accommodations to attend the event. We ask that individuals who are sick with any illness to stay home to ensure the health and safety of other participants, our staff, and the field course instructors – refunds will be granted to these individuals.
More about Field Courses
We at Grandfather Mountain Stewardship Foundation are excited to share the unique wonders of the mountain with you. Since 2008, GMSF has aimed at creating educational programming that deepens understanding through in-depth study and field research. Our goal is to provide you with a rich experience in a particular field of study, and to also provide a safe and memorable trip to Grandfather Mountain. Read more about Field Courses.
Related Events