Grandfather Presents: Rick Ridgeway
July 14th, 2022 @5:30 pm

-

8:00 pm

$50.00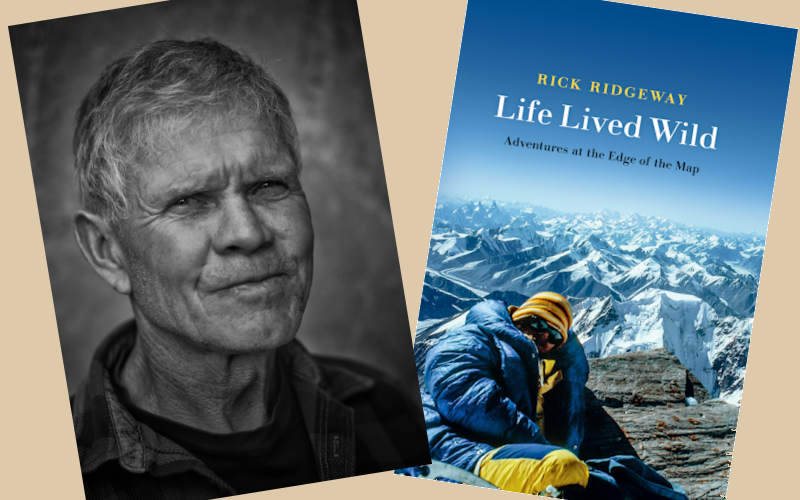 The first speaker in our 2022 Grandfather Presents series is Rick Ridgeway. Rick is an outdoor adventurer, writer and advocate for sustainability and conservation initiatives. For 15 years, Rick was the VP of Environmental Affairs and then VP of Public Engagement at Patagonia, Inc. During his tenure he has worked with teams to develop and launch environmental and sustainability initiatives including Freedom to Roam, the Footprint Chronicles, the Responsible Economy Campaign and Worn Wear. He also was the developer of developer of the Higg Index and founding chairman of the Sustainable Apparel Coalition, which is today the largest apparel, footwear and home textile trade organization in the world.
Additional, Rick is recognized as one of the world's foremost mountaineers. With three companions, he was the first American to summit K2, and he has done other significant climbs and explorations on all continents. During his explorations Rick witnessed the degradations of the wildlands that had come to define his life. He saw firsthand the remote grasslands in Patagonia turned into tourist cities and the glaciers on Kilimanjaro disappear. He also witnessed the wildlife that inhabited those wildlands decline, and in the mid-90s, he began a series of journeys that allowed him to communicate what was happening to these formally wild regions. He has written seven books and many magazine stories, and he has produced and directed dozens of television shows. His memoir Life Lived Wild was released in October 2021. National Geographic has also honored him with its "Lifetime Achievement in Adventure" award.
Rick serves on six boards of conservation organizations, including the Tompkins Conservation, the Turtle Conservancy, One Earth and the Kiewit Family Foundation. Rick lives in Ojai, California, and has three children and four grandchildren.
More About Grandfather Presents
Our 2022 speaker series at the Wilson Center for Nature Discovery includes three big Thursday night events with internationally and nationally known presenters. Presented by the Grandfather Mountain Stewardship Foundation, the series also includes three Saturday afternoon presentations focused on nature, adventure or conservation-related topics on a local or regional scale. Read more.
Schedule: July 14, 2022
5 – 6 p.m.: Entrance Gate opens for event. Proceed about one mile to Wilson Center for Nature Discovery.
5:15 – 5:45 p.m.: VIP event in the sunroom (holders of Pro Series Pass) to meet Rick.
5:30 – 6 p.m.: Reception for all ticket holders inside Wilson Center for Nature Discovery
6 – 7 p.m.: Presentation in Classroom in the Clouds event space
7 – 8 p.m.: Book Signing & Exhibits Open
Tickets
$50 per person (purchase below starting June 6)
Grandfather Presents Series Pass available for Bridge Club Members. Read more.
Refunds/Cancelations
The majority of Grandfather Mountain events generally sell out and have a waiting list. If you cannot attend the event that you registered for please let us know. Full refunds will be given to individuals who reach out to us at least five days before the event. This allows time for individuals on the waiting list to make accommodations to attend the event. To cancel your registration please call 828-733-2013 Monday-Friday 9 a.m. – 5 p.m.
Related Events