Adult Field Course: The Birds of Grandfather Mountain – The Wonders of Migration
September 17th, 2022 @8:15 am

-

2:00 pm

$51.00 – $60.00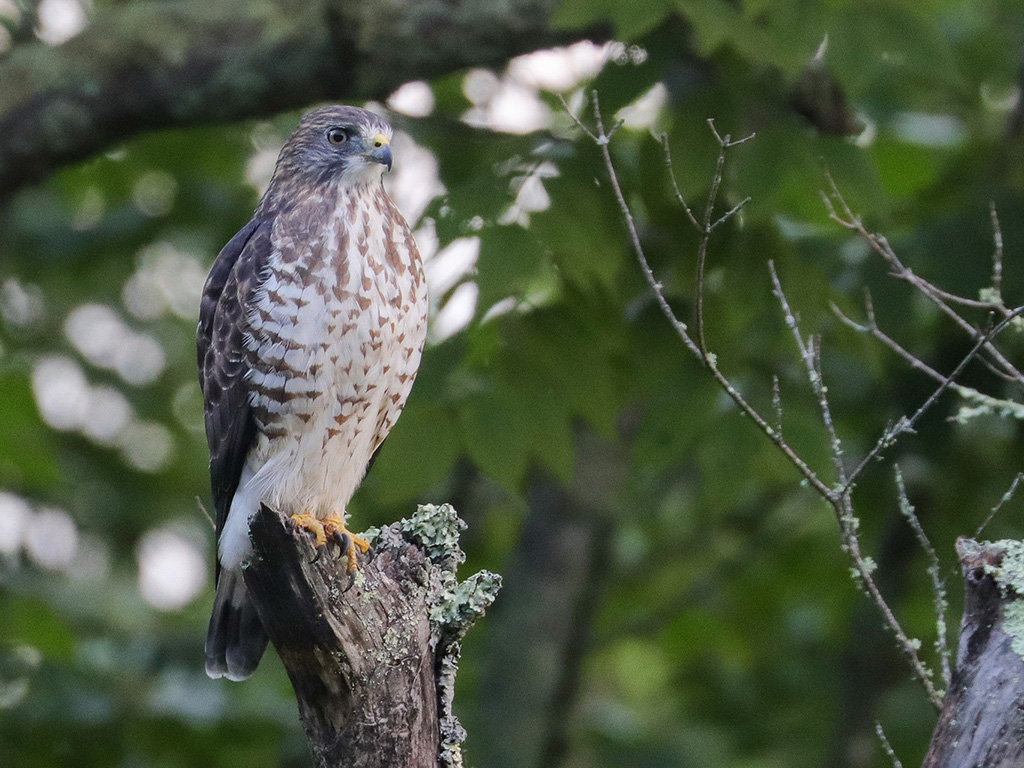 Grandfather Mountain is an amazing diversity hotspot for breeding birds in the southern Appalachians with more than 120 species detected during the nesting season. But those numbers go up even more during spring and fall migration. Its position along the escarpment and the quality, diversity and extent of forests and other habitats nearby make it a magnet for migrant species of all types. From warblers to hawks to hummingbirds, migration is a wondrous period of the year for birders and nature enthusiasts alike.
In this Adult Field Course, participants will visit several locations on Grandfather Mountain to learn about the diversity of migrants and the timing and mechanics of migration — and hopefully see dozens of species using Grandfather as a staging area on their long flights to Central and South America. The classroom segment of the course will take a deeper dive into the science of migration and some of the technology unlocking the secrets of bird movement.
Curtis Smalling is the director of conservation for Audubon North Carolina and a lifelong birder. He grew up and resides in Watauga County. A graduate of Appalachian State University in Biology and Appalachian Studies, his lifelong fascination with birds and the mountains has led him to primary research on species like golden-winged warblers, yellow-bellied sapsuckers, wood thrush and many others here and abroad. He oversees Audubon NC's work on Forests, Coastal Sanctuaries and Resilience, as well as Bird Friendly Communities. He serves in leadership roles on several bird and species working groups and committees and has published and presented extensively on birds and their conservation.
Program Itinerary
8:15 a.m. Meet at the Wilson Center for Nature Discovery and Introductions
8:30 a.m. – 12:00 p.m. Birding at a variety of locations on the mountain
12:00 p.m. – 12:30 p.m. Lunch Break (bring your own or can be purchased at Mildred's Grill)
12:30 p.m. – 2:00 p.m. Classroom presentation on migration ecology and bird diversity on the mountain
Registration
This Adult Field Course costs $60 for general admission and $51 for members of Grandfather Mountain's Bridge Club. Attendance is limited to 20 participants. Registration opens here July 18. Purchase tickets below. Your program cost includes admission into the park, field instruction, and transportation during your program (you may drive your own vehicle to visit sites on the mountain if you would prefer). It does not include meals or lodging. Bringing a bagged lunch is recommended for most field courses, although Mildred's Grill will be open to attendees. Tips are not accepted for field courses. However, donations to the Grandfather Mountain Stewardship Foundation are accepted if you would like to recognize a program.
What to Bring?
Much of your time will be spent outdoors and all programs are held rain, snow or shine. You should be prepared for a variety of mountain weather conditions and temperatures. Appropriate clothing, equipment, and footwear are very important. Please bring a daypack with enough room to carry extra clothing (i.e., extra layers, rain gear), water, lunch, camera, binoculars, etc. Also bring a water bottle, sunglasses, sunscreen, portable chair or pad, field guide/notepad, hand lens and knife for close-up observations, and wax paper or paper bags (with basket or box) to wrap specimens in.
Refunds/Cancelations
The majority of Grandfather Mountain events generally sell out and have a waiting list. If you cannot attend the event that you registered for please let us know. Full refunds will be given to individuals who reach out to us at least five days before the event. This allows time for individuals on the waiting list to make accommodations to attend the event. To cancel your registration please call 828-733-2013 Monday-Friday 9 a.m. – 5 p.m. We ask that individuals who are feeling ill stay home to ensure the health and safety of other participants and Grandfather Mountain staff. Refunds will be granted to these individuals.
More about Field Courses
Welcome to Grandfather Mountain Stewardship Foundation's (GMSF) Adult Field Courses! We are excited to share the unique wonders of the mountain with you. Since 2008, GMSF has aimed at creating educational programming that deepens understanding through in-depth study and field research. Our goal is to provide you with a rich experience in a particular field of study, and to also provide a safe and memorable trip to Grandfather Mountain. Read more.
Related Events