Adult Field Course: Grandfather's Starry Skies
October 22nd, 2022 @5:00 pm

-

11:00 pm

$51.00 – $60.00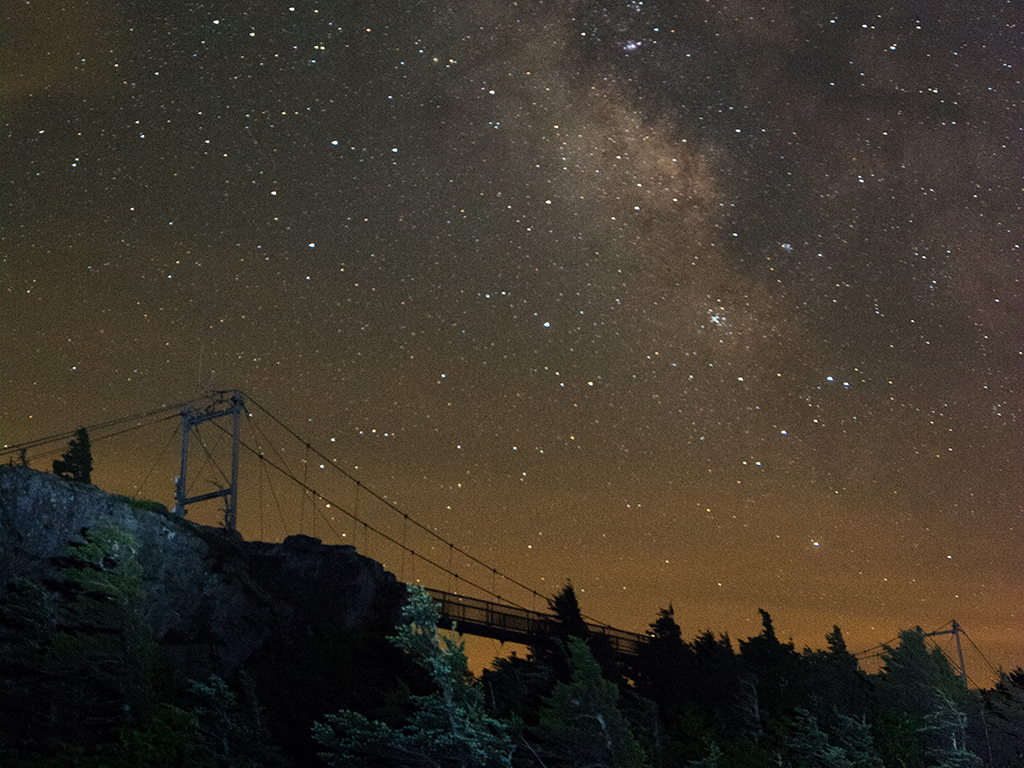 October is one of the best times of year to be stargazing at Grandfather Mountain. The air is cool and clear, and the summer constellations are still very prominent, with some early winter sights making their appearance later in the evening. Our class is also during the time of the Orionid meteor shower, so hopefully some of these celestial fireworks will grace our skies during our nighttime observing.
Our goal for this class is to create a familiarity with the night sky and learn the basics of stargazing that can be applied on your own on any clear night throughout the year. We'll start in the classroom by exploring some of the best print and digital resources for exploring the night sky and cover some of the basics of stargazing and how to orient to the night sky. We'll also discuss the use of planispheres, star maps, and star charts to find some of the most beautiful deep sky wonders that can be seen through binoculars or small telescopes. During the evening hours, we'll be out at various viewing locations on the mountain, practicing our stargazing skills while looking for meteors and learning about some of the most prominent stars, constellations, and other objects visible this time of year.
Your instructor, Stephan Martin, has been a stargazer since he was very young growing up under dark skies of South Florida. Steve is also an astronomer, educator, and author who has taught astronomy and physics at colleges, universities, and learning centers across the US and internationally for over twenty-five years.  He has worked as a data analyst for the Hubble Space Telescope and as Observatory Supervisor at Williams College, where he participated in scientific research expeditions around the world to study the dynamics of the solar corona during solar eclipses.
Program Itinerary
5:00 p.m. Meet at the Wilson Center for Nature Discovery and Introductions
5:30 p.m.- 7:00 p.m. Classroom learning about the night sky and the use of astronomy resources
7:00 p.m.- 11:00 p.m. Evening observing, with program concluding at the Wilson Center for Nature Discovery
Registration
This Adult Field Course costs $60 for general admission and $51 for members of Grandfather Mountain's Bridge Club. Attendance is limited to 20 participants. Registration opens here August 22. This event is sold out. Please email judi@grandfather.com to be placed on the waiting list for this event. Your program cost includes admission into the park, field instruction, and transportation during your program. It does not include meals or lodging. Bringing a bagged dinner is recommended. Tips are not accepted for field courses. However, donations to the Grandfather Mountain Stewardship Foundation are accepted if you would like to recognize a program.
Refunds/Cancelations
The majority of Grandfather Mountain events generally sell out and have a waiting list. If you cannot attend the event that you registered for please let us know. Full refunds will be given to individuals who reach out to us at least five days before the event. This allows time for individuals on the waiting list to make accommodations to attend the event. To cancel your registration please call 828-733-2013 Monday-Friday 9 a.m. – 5 p.m. We ask that individuals who are feeling ill stay home to ensure the health and safety of other participants and Grandfather Mountain staff. Refunds will be granted to these individuals.
What to Bring?
Much of your time will be spent outdoors and all programs are held rain, snow or shine. You should be prepared for a variety of mountain weather conditions and temperatures. Appropriate clothing, equipment, and footwear are very important. We also recommend a daypack with enough room to carry extra clothing, water, dinner, camera, binoculars, etc. Plus, bring a water bottle, layers of warm clothing, gloves/hat, binoculars, notebook and pencil.
A planisphere, while not required, can be helpful in learning the night sky and how it moves throughout the year. There are many good options available on Amazon and elsewhere, but please be sure to purchase one appropriate for our latitude of 35 degrees north (planispheres for 30 or 40 degrees latitude will be fine). A Peterson Field Guide to the Stars and Planets is recommended by the instructor, but not required. The latest copy on Amazon (4th edition, updated) is less than $20.
A red flashlight for navigating paths at night and also viewing star charts. These can be purchased through local or online retailers or you can make your own by covering the lens of a standard flashlight with red cellophane or fingernail polish. The idea is to create a light source that's not too bright that it will affect your dark-adapted night vision, so beware of using very bright led flashlights as they will need a lot of layers of red filtering to make them usable for our purposes.
About Adult Field Courses
Grandfather Mountain's Adult Field Courses offer participants the chance to explore the mountain like never before. Students examine specific aspects of the park ecosystem through fun, hands-on field excursions. Course leaders are experts in their fields and include professors, naturalists, scientists and acclaimed photographers, writers, historians and artists.
Since 2008, the Grandfather Mountain Stewardship Foundation has aimed at creating educational programming that deepens understanding through in-depth study and field research. Our goal is to provide you with a rich experience in a particular field of study, and to also provide a safe and memorable trip to Grandfather Mountain.
This event is sold out. Please email judi@grandfather.com to be placed on the waiting list for this event. 
Related Events