This December, Grandfather Mountain will welcome some new residents to its environmental wildlife habitats.
The nonprofit nature preserve and attraction has adopted three male elk — a bachelor herd — to reside in an all-new habitat. After the park's resident white-tailed deer passed away earlier this year, the habitat underwent significant renovations to accommodate these new residents.
The adoptees are calves, each around four months old, and hail from a private elk farm and breeder in central North Carolina.
Although elk are new to Grandfather Mountain, that wasn't always the case. Elk population once thrived in the High Country, with the animals' lending their name to numerous towns and landmarks, such as Banner Elk, Elk Park and Elk River Falls. Their numbers were decimated by over-hunting and loss of habitat in the 18th and 19th centuries, and they were eventually eradicated entirely from the region.
However, in 2001, the National Park Service began reintroducing elk into Great Smoky Mountains National Park, and they've been thriving there ever since.
At Grandfather Mountain, guests will now be able to see them up close and personal in their native environment.
"Now that we have elk in the park, guests can get a glimpse of how the mountain would have looked hundreds of years ago, with these magnificent creatures roaming the landscape," said Frank Ruggiero, director of marketing and communications for the Grandfather Mountain Stewardship Foundation, the nonprofit organization that oversees the park.
The mountain opted to adopt three male elk, based on research and expert recommendation. While members of bachelor herds are known to live together peacefully, that's not necessarily the case with mixed herds, in which bull elk can grow aggressive during mating season.
Since the elk will be residing in an environmental wildlife habitat, the mountain's habitat keepers felt it would be best to instead welcome a bachelor herd.
"Our environmental wildlife habitats are built around the animals' actual native environments, offering them ample room to roam as they please — even if it means being out of sight for a bit of privacy," Ruggiero said.
The new habitat was made possible by a generous grant from the A.J. Fletcher Foundation and support from Jim and Barbara Goodmon.
"A large overlook offers folks the chance to see the elk in their new habitat, and daily enrichments — like a special treat or unfamiliar scent — will let our guests see them at their most active," Ruggiero said. "To say we're looking forward to this is a gross understatement. Our habitat keepers are practically bugling with excitement."
"We're not only excited to get a new animal, but also to be able to teach the public about an animal that used to be wild here and still is in some areas of North Carolina," habitats keeper Alexis Rowe said.
Naming Contest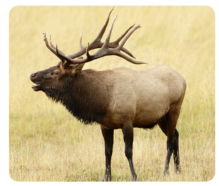 Grandfather Mountain is offering another way for the public to engage with the elk — through a naming contest.
An online naming competition kicks off Friday, Nov. 17, in which contestants can submit name ideas for the three elk calves, along with a $3 donation ($1 per name), at www.grandfather.com. Each submission should include three name suggestions, and entries are due by Dec. 6.
Grandfather Mountain encourages contestants to submit names related in context, e.g. famous trios (excluding "The Three Stooges" and anything political).
Habitat staff will select the three winning names — entries will not be mixed and matched, e.g. a name from one contestant and two from another contestant, etc. — and the winner will receive a pass for four to Grandfather Mountain, as well as a complimentary Behind the Scenes Tour for their group. The names will be announced in December, when the elk are on display in their new habitat.
Proceeds from the contest will directly benefit the elk themselves, going toward food, veterinary care and daily enrichments.
The not-for-profit Grandfather Mountain Stewardship Foundation strives to inspire conservation of the natural world by helping guests explore, understand and value the wonders of Grandfather Mountain. For more information, call (800) 468-7325.