Grandfather Mountain is offering an "Early Bird Discount" to guests who enter the park before 9 a.m. on July 4 and July 5, 2015.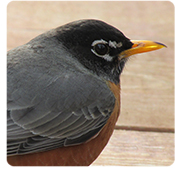 The discount provides $2 off each adult admission and $1 off each child admission for those who enter the park between 8 a.m. and 9 a.m. on those dates. This discount can be applied on top of already reduced tickets (military, senior, AAA discount).
The July 4 holiday weekend is traditionally busy at Grandfather Mountain, with the majority of visitors arriving between 10 a.m. and 4 p.m. Besides the cost savings, "early birds" will appreciate entering the park before the largest crowds arrive, providing a more leisurely experience.
Summer park hours are 8 a.m. to 7 p.m., with ticket sales ending at 6 p.m.
Those who are unable to take advantage of the early bird discount have another method for avoiding traffic on the Independence Day weekend.
Visitors who purchase tickets online at tickets.grandfathermtn-staging.v38mw8dg-liquidwebsites.com can use the "Prepaid Lane" on July 4-5, which bypasses the main Entrance Gate on high-volume dates and grants access through MacRae Meadows during peak times of the day. Visit grandfathermtn-staging.v38mw8dg-liquidwebsites.com to read more about Online Ticketing and prepaid access.
Regardless of when guests arrive, Grandfather Mountain staff will be ready to help make the process smooth and enjoyable. Visitors can cross the Mile High Swinging Bridge, stand eye-to-eye with native wildlife in natural habitats or hike one of the mountain's 11 trails.
In preparation for the Highland Games, Grandfather Mountain will close at 6 p.m. (rather than 7 p.m.) on Thursday, July 9 to prepare for "The Bear" footrace. The park will be open on a regular schedule for the remainder of the Highland Games on July 9-12.
For questions about the Early Bird Discount or Grandfather Mountain hours, call (828) 733-4337.