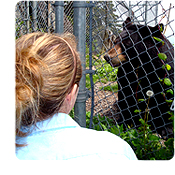 During the month of April, the Grandfather Mountain Stewardship Foundation is offering a discounted rate for Behind the Scenes habitat tours.  The usual price of $30 per person will be lowered to $20 during the month.
Behind the Scenes habitat tours give the public an opportunity to see where the animals sleep, learn what it takes to care for the animals year-round, observe a training session and learn why the animals call Grandfather Mountain home. The Mountain's knowledgeable habitat staff gladly answers questions as they guide participants on their tour.
"We are very excited to introduce Behind the Scenes participants to the animals we love and give them an up-close viewing opportunity and better understanding of the day-to-day life of the animals," said Habitat Manager Christie Tipton.
Each tour takes approximately one hour and 30 minutes.   Tours occur Saturdays at 10:30 a.m. and 1 p.m. and Sundays at 1 p.m.   During Easter Weekend, the tours will be offered Friday at 1 p.m. and Saturday, Sunday and Monday at 10:30 a.m. and 1 p.m.
There is no age limit but small children must be carried if they are not capable of walking on their own. The use of strollers is prohibited during the tour. Participants must be able to walk up and down steep terrain, wear closed toe hiking or work boots, dress in layers and be willing to sign a waiver of liability.
Admission to the park is separate.  To make a Behind the Scenes reservation before your trip, please call 828-733-8715.  Any remaining tour spots can be purchased on the day of at the Nature Museum Gift Shop.
The Grandfather Mountain Stewardship Foundation is a not-for-profit corporation established to preserve Grandfather Mountain, operate the nature park sustainably in the public interest, provide an exceptional experience for guests, and inspire them to be good stewards of the earth's resources.  For more information, visit www.grandfathermtn-staging.v38mw8dg-liquidwebsites.com or call 800-468-7325.